Bernhard Paatz
This "Scheintod" pistol was made by Bernhard Paatz of Zella Menthis, being identified by the Brandname and a BP monogram. "Scheintod pistole" is a tear gas pistol.
The Perplex Model 1 had an external hammer and a single tipping barrel, locked by a push-button on the left of the frame, above the shealth trigger.
The model 2 had two superimposed barrels, an automatic ejector actuated by a spur projecting from the frame, a folding trigger and enclosed-hammer loch work.
A push-button catch inspired by the model 1 was soon replaced by a slider.
Paatz was established in 1890. In 1941 was listed as weapons maker.
Edoardo Mori
German gas pistol Perplex Model 2 gauges 12 mm Scheintod (Gas), 2 shots, double action, produced in the years 1920.
Friendly
Roger
A small correction (addition) for the pistol PERPLEX. The weapon is represented like a whole series of similar machines, in famous catalogue WUM (Waffen und Munition), as in the catalogue Alfa edition of 1911. These two catalogues were republished and are not too difficult to currently find. They resemble a little those of the "Manu"...
About the ammunition, cartridge known as SCHEINTOD, or SCHEINTOT (i.e. "which put in a similar state at the mort"... only that!) was quite particular, aspect of small cartridge of hunting, gauges 12 mm of them, with base brass, tube of green paperboard or red printed in black "SCHEINTOD D.R.G.M.": At beginning, it was not charged with gas, but... of dust of tobacco, which, projected with the face of the attacker, was supposed to plug it temporarily, the whole accompanied by a strong explosion!
It is only then that the load was modified for a lachrymatory product crystallized kind CS. The date of introduction of these weapons must be between 1910 and 1911, since the catalogue Alfa 1911 the draft of "INNOVATION".
Currently, the ammunition which was delivered by limp of 10, one with the bought weapon, is enough sought by the amateurs and is sold often 20 euros, according to the state and the alternative.
The number of weapons confined in 12 mm Scheintod is surprising, active thingummy kind gun of cyclist to more worked out many tubed machines, the such PERPLEX, the O.K. (1 barrel), KNOCK OUT (1, 2 or 3 barrels), and even a small revolver called BULLDOG, most probably of Liège... the whole are illustrated, in particular in Alfa, by superb labels showing of beautiful Messrs out of frock coat and top hat dispersing of night, (and of a noble air!), some blades villains with caps...!
P. Regenstreif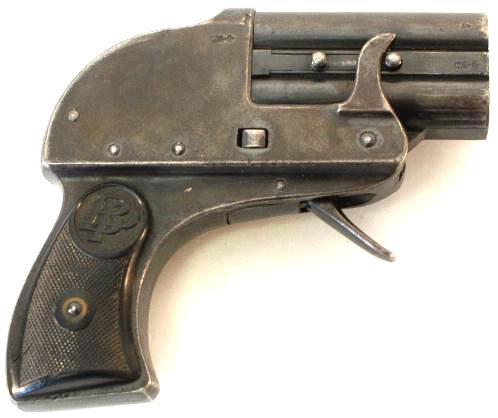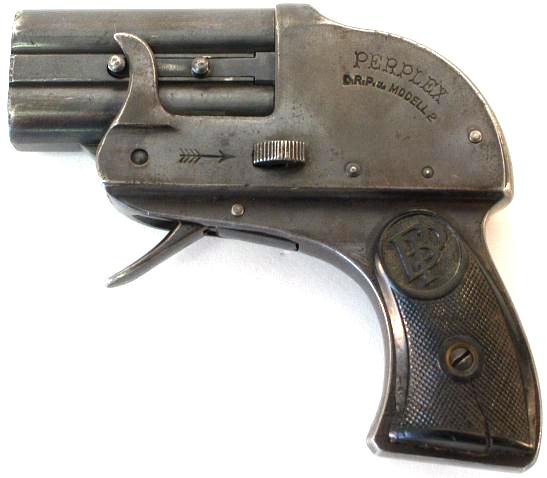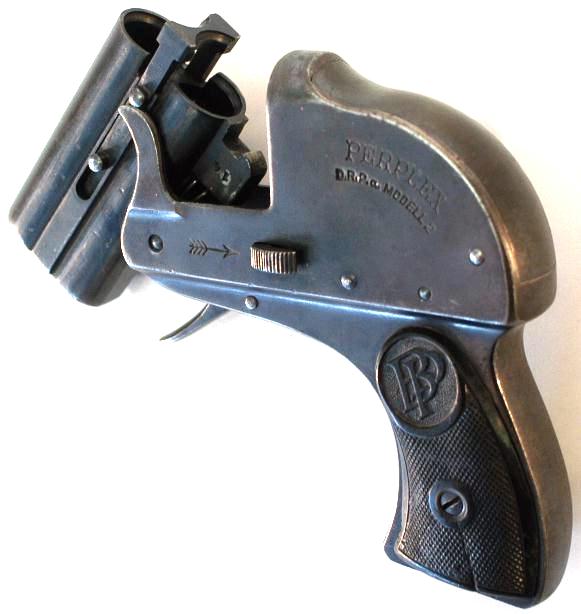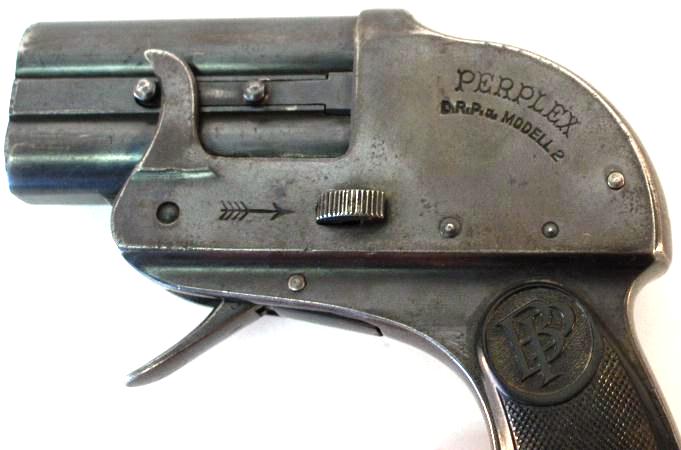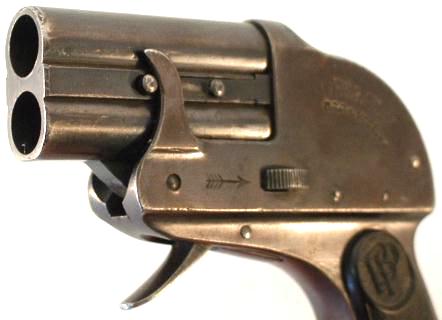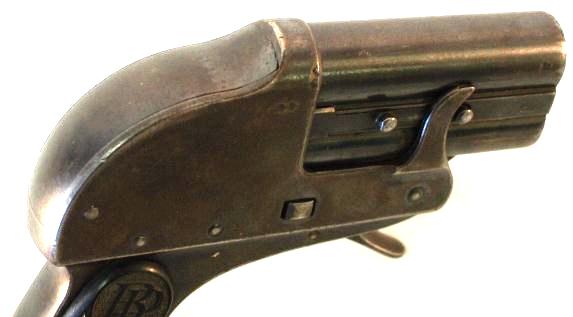 PAATZ Berhard
Ladies Size 1930 PAATZ 6mm Flobert Alarm & Gas Revolver with DA and folding trigger.
Today I was lucky enough to trade one in against other stuff.
I knowed about it since one year ago and the owner noticed me a few days ago that he is willing to trade.
This little 12cm revolver shows S/N #45 and a nearly perfect Nickel finish.
It was produced about 1930 in small numbers.
The barrel has no bore, just a 3mm deep fake, and the gas is exhausted on the upside of the barrel.
Rainer H.
Solingen, Germany