GEORGES HENRY DAW
BRITISH GEORGES HENRY DAW REVOLVER
Percussion revolver manufactured in the 1850's by the British gunmaker Georges Henry Daw.
Caliber .338 (120 bore), six shots, double-action only.
The frame is finely hand engraved with volutes in the British style of the era. Original white polished finish.
Daw has produced three models, of which two in double and single action, in the calibers .497(54 bore), .338 (120 bore) and even one identical to this one but in the unusual .28 caliber. He worked together with the famous Scottish gunmaker Alexander Henry, who gave the revolvers his well-known special rifling.
The revolvers featuring the Henry rifling bear his name engraved on the top flat of the barrel.
A particularity of this revolver is that besides the cylinder turns counterclockwise, the cylinder locking is activated by a plot which is integral with the front face of the pawl.
The flat spring at the left side of the frame, behind the cylinder, can be pushed inside in order to block the hammer in a halfcock position for loading. Once the hammer is in that position, the cylinder can be turned freely by hand.
This revolver is an extremely well finished luxury weapon.
Marcel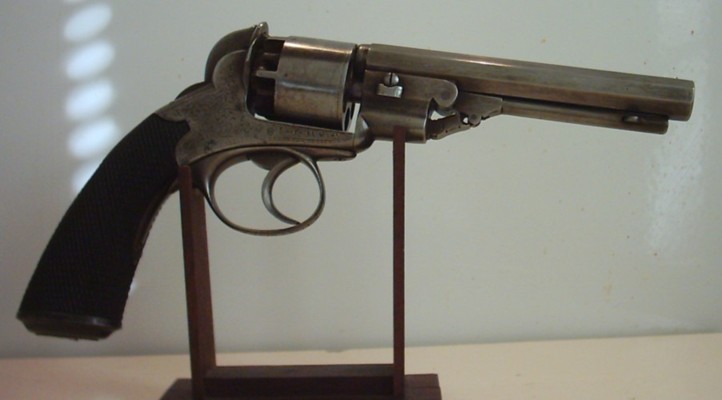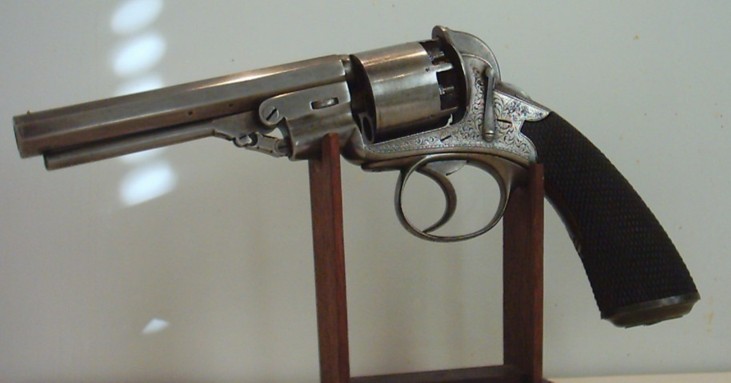 G.H. Daw
London "Revolver with Knife"
.38 cal. C.F., six-shot rd. cyl., 4 1/4" oct. bbl.
Double action, two-piece checkered wood grips, shell extractor screw in metal butt cap.
This revolver is fitted with a 17" tapered steel blade.
Top barrel strap marked G.H. Daw 57 Threadneedle St. London.
Photos authorized by "CWSLAGLEANTIQUES" with my grateful thanks.