Durs Egg
Here a shotgun signed Durs EGG whose arms manufacture biography is already quite detailed.
Rifle of the period Victoriana (1832 - 1901) I think of the neighbourhoods of 1855, having the punches of test of the proofhouse of Birmingham and V crowned of the Victoria queen.
Much work on this rifle, especially on the wood which extremely fatty and was not badly damaged.
The metal parts were well rusted only the interior of the gun was mirror.
A pretty small shotgun to the rather short barrels but the stick is good length.
It showed me but I stuck there.
Nicolas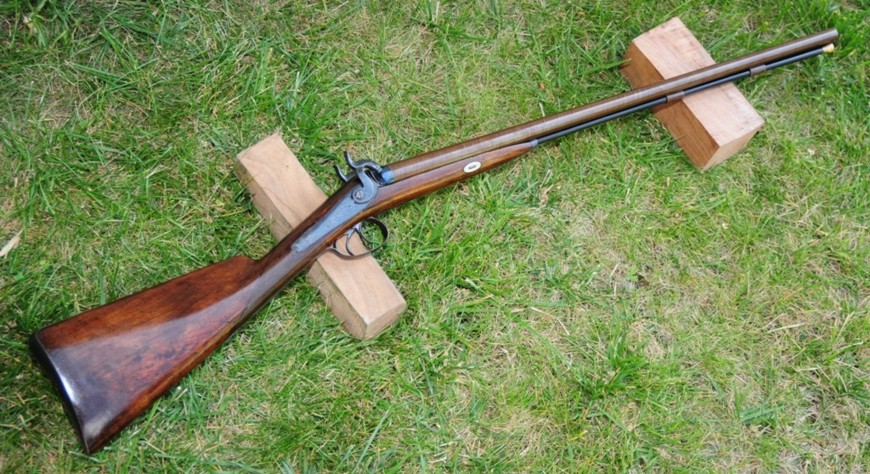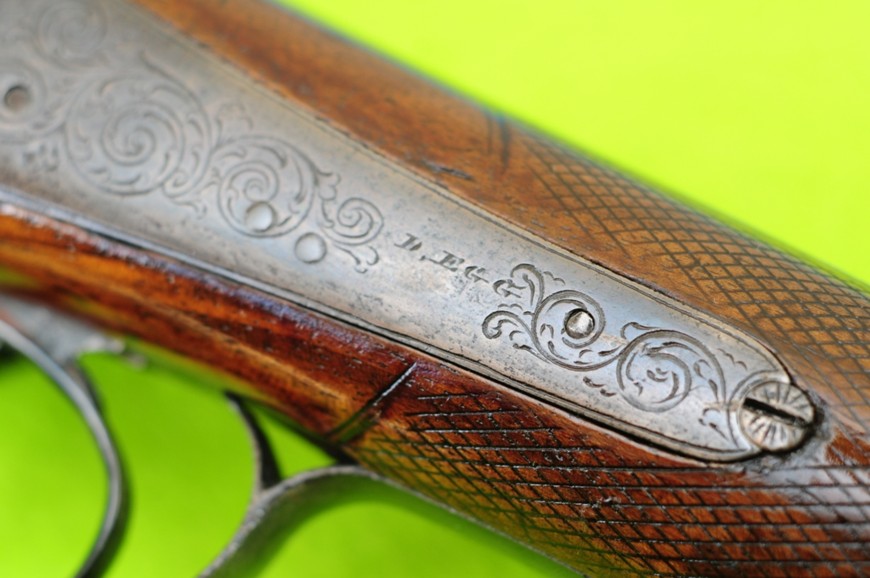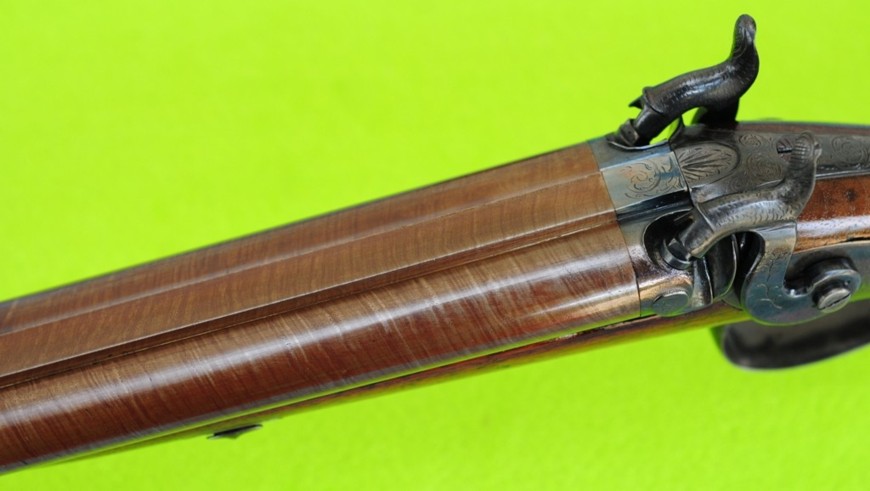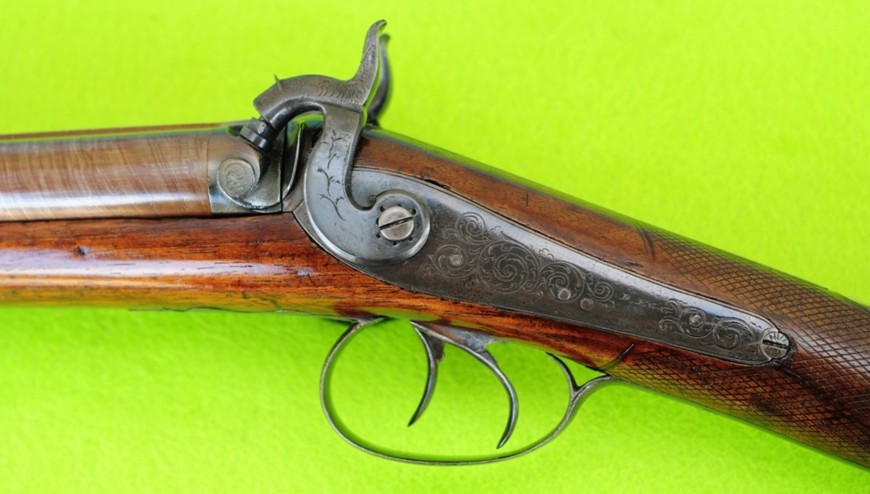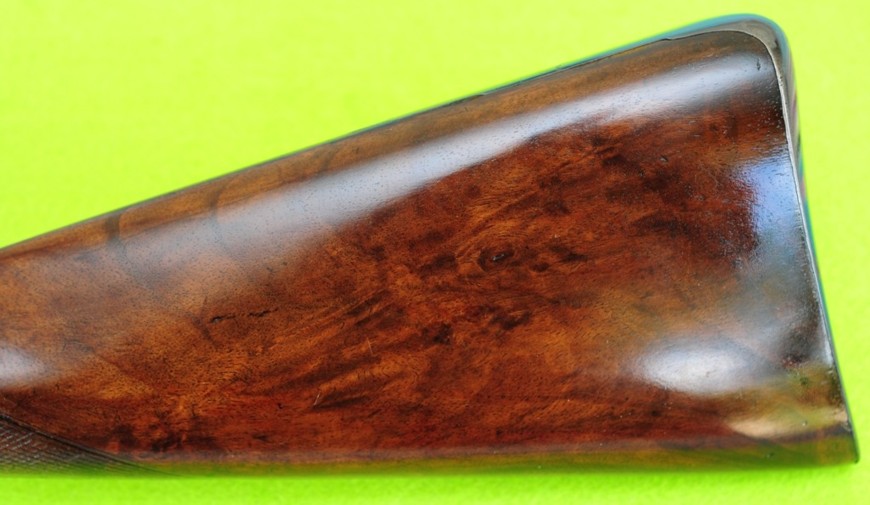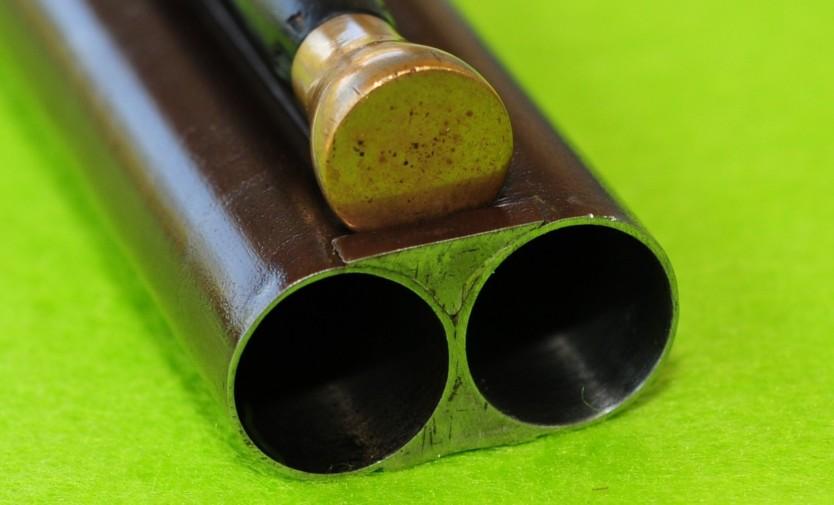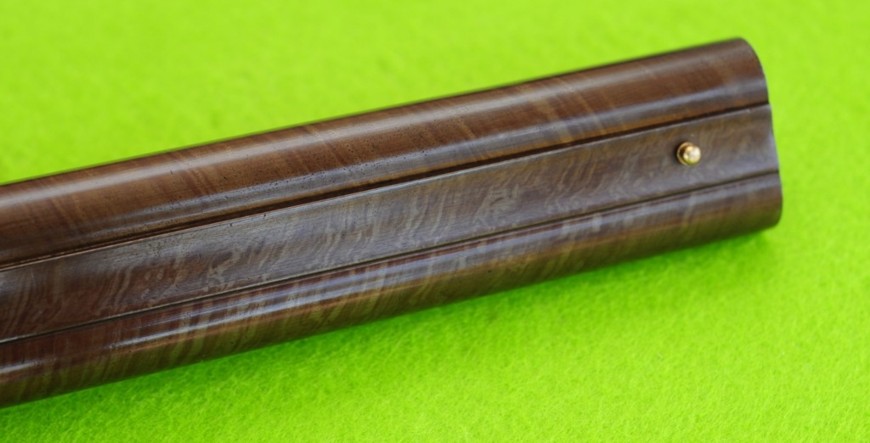 Durs Egg
Over-and-Under Boar Hunting Flintlock Rifle-Shotgun Combination by Durs Egg, London, with Folding Hunting Sword. c. 1800
.65 caliber rifle barrel (top), with 16 gauge shotgun barrel (bottom), top of each barrel flush gold inlaid "D. EGG, LONDON,"; each lockplate script engraved, "D.Egg." 20-inch round barrels with octagonal breeches; two gold inlaid bands at breech of top barrel, with two-leaf rear sight and German silver blade front sight; proof mark visible on left side of breech of upper barrel; dovetailed steel aperture to guide tip of folding sword to proper position on bottom of barrel; locks with sliding hammer and pan safeties at half cock which also engage aperture on face of frizzen; gold inlaid bushings to each touchhole; gold inlaid flash pans; barrels with Damascus twist browned finish; crescent cheekpiece on checkered select walnut buttstock; sling swivel studs. Rosewood ramrod with steel finials, that at front threaded for cleaning extension. Steel hunting sword curved to fit snugly on bottom barrel when pivoted and secured by steel sprung button release; measuring 15-in. from pointed tip to muzzle of gun; overall length with sword extended, 50 1/4-in. Weight, 7 lbs.
Note: Durs Egg, Gunmaker to H.M. George IV and the Duke of York.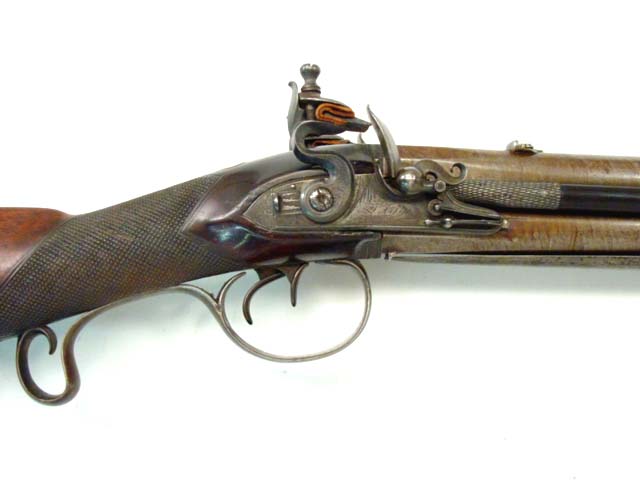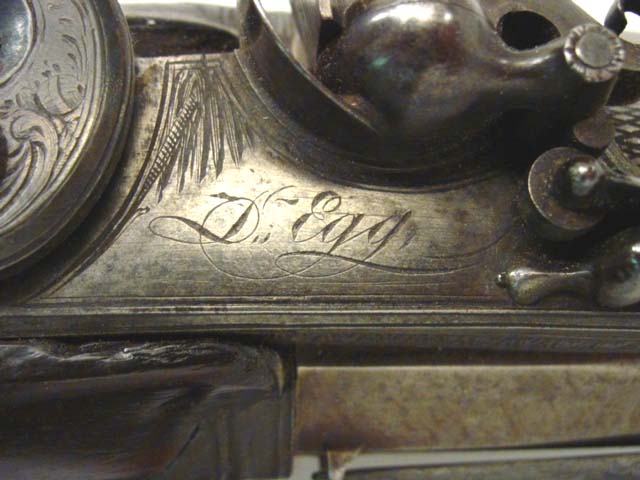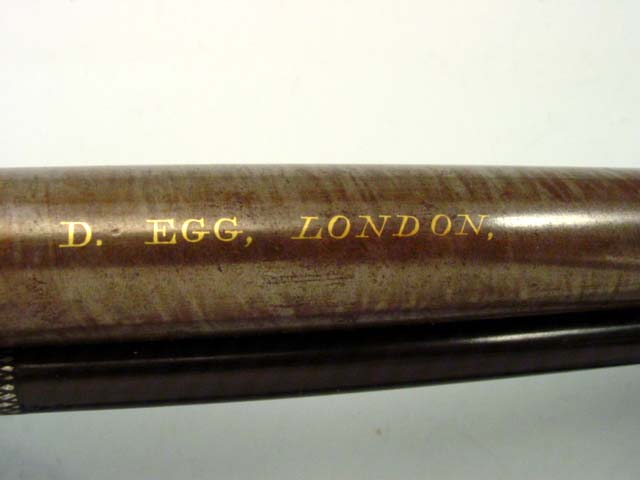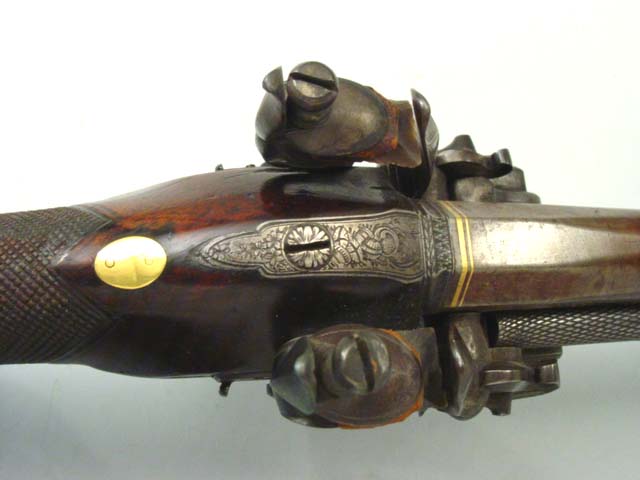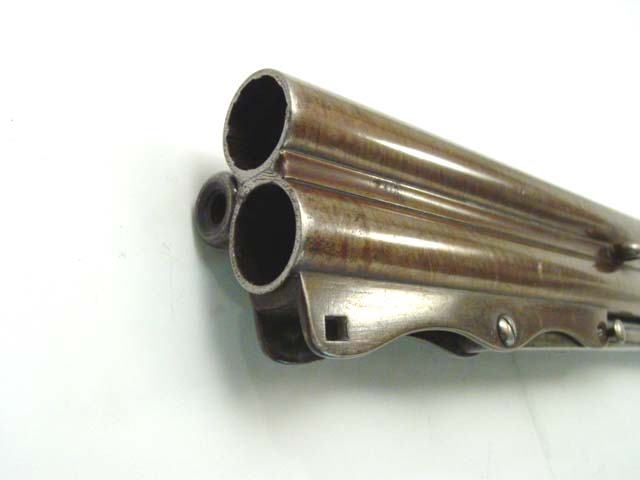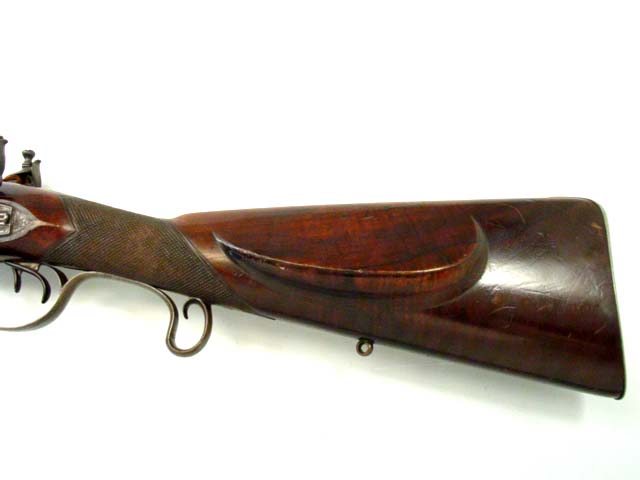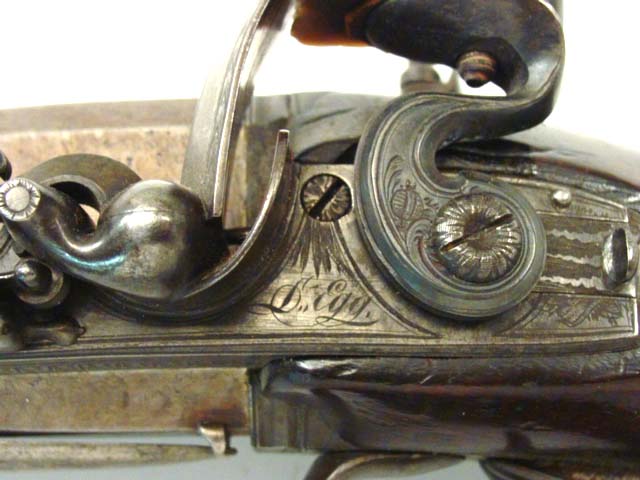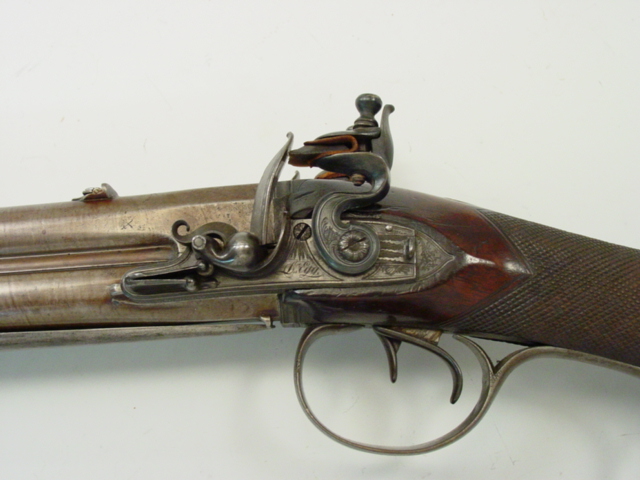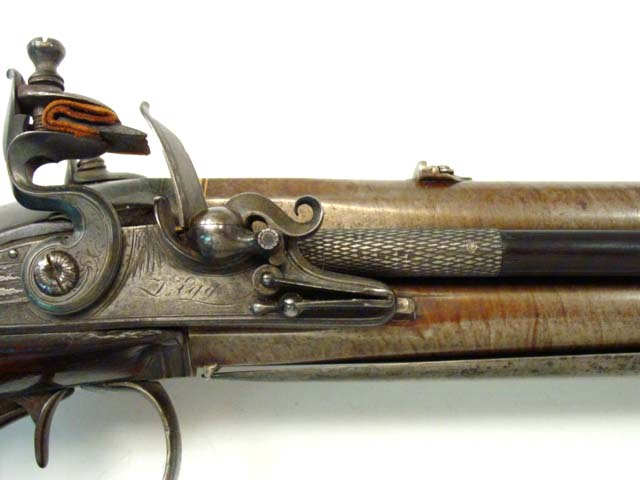 Joseph Egg
ANTIQUE ENGLISH TRAVELERS OR GREATCOAT PERCUSSION PISTOL AROUND 1860. MADE BY JOSEPH EGG, A MEMBER OF THE FAMOUS EGG DINASTY ( BORN IN SWITZERLAND ). SIGNED "EGG & SONS ON THE LOCK PLATE AND " LONDON " ON THE DAMASCUS BARREL. CRACKFREE WALNUT GRIP . CALIBER .69 SMOOTH BORE . OAL : 28 cm.
Photos authorized by "SWISSDAGER" with my grateful thanks