Pryse - Deprez
Experimental British-Proofed Unmarked Prototype Double Action Revolver
Caliber 11mm, 5 3/4-inch octagonal barrel marked: Pryse-Deprez smoothbore. Unusual reverse, top-hinged, bottom break action. British proofs. Chequered walnut grips. Lanyard ring. Break down tool in butt.
This revolver with reversed top break very strongly resembles a revolver SPIRLET, including the small key under the frame, releasing the higher part of the weapon.
The knurled screw fixed in the metal cap is the first which I see and it is not reproduced on patent SPIRLET attached.
The mark with the two cross swords and the letters illegible are unknown for me, it has a small air of family with mark SPIRLET attached, but without more.
My assumption is that it is about a copy of SPIRLET to which the manufacturer copier will have added a small accessory to turn the patent.
I invite the readers to contradict myself, which could be interesting.
GG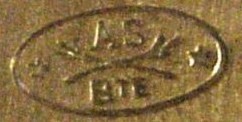 Here what says TAYLERSON about Charles PRYSE the young person of ASTON close to BIRMINGHAM and taker of patent n° 4421/1876 for an improvement of mechanism of a revolver. This revolver (WEYBLEY n° 4) had a pleasant cutting with articulated frame, a latch of barrel with button with pressure, a removable button to release the barrel and a mechanism with double action in which the tail of trigger made covered through the back part of the trigger guard. All these details are considered commonly as many features allowing the identification of this weapon and its inventor Charles PRYSE.
Doesn't the history say if PRYSE joined DEPREZ (arms manufacturer of Liège, but which?) where if it gave only license to this one to manufacture revolvers PRYSE
GG