Thomas 1870
The Thomas revolver had a patent started in 1869 but the first revolvers came out in 1870 And where produced by Tipping and Lawden.
This is a later version of the .380 revolver. It has 5 shots. The early model had an different loadinggate with an spring on the frame. This is loading gate is much simpler. You can see the safety screw. To use that you put the hammer in the safety position and turn the screw in the hole of the hammer.
Henk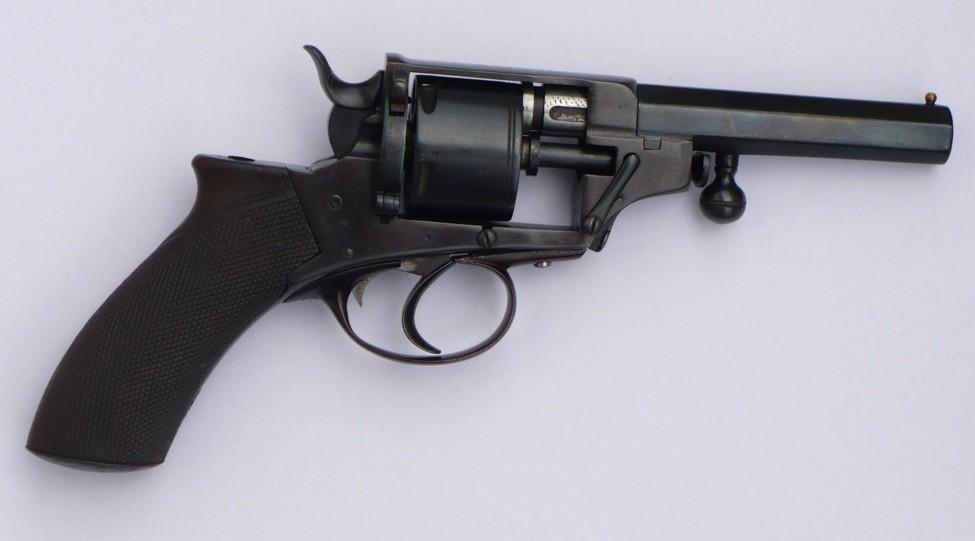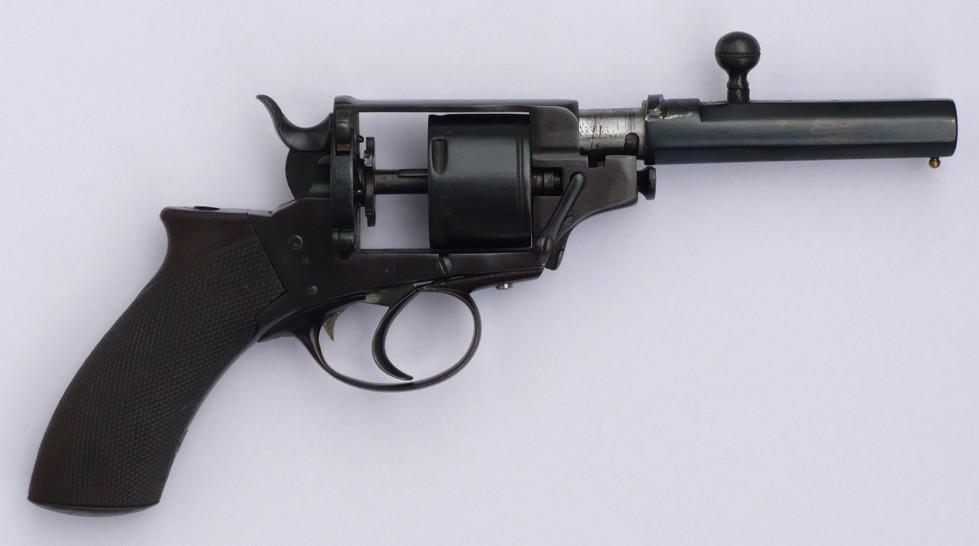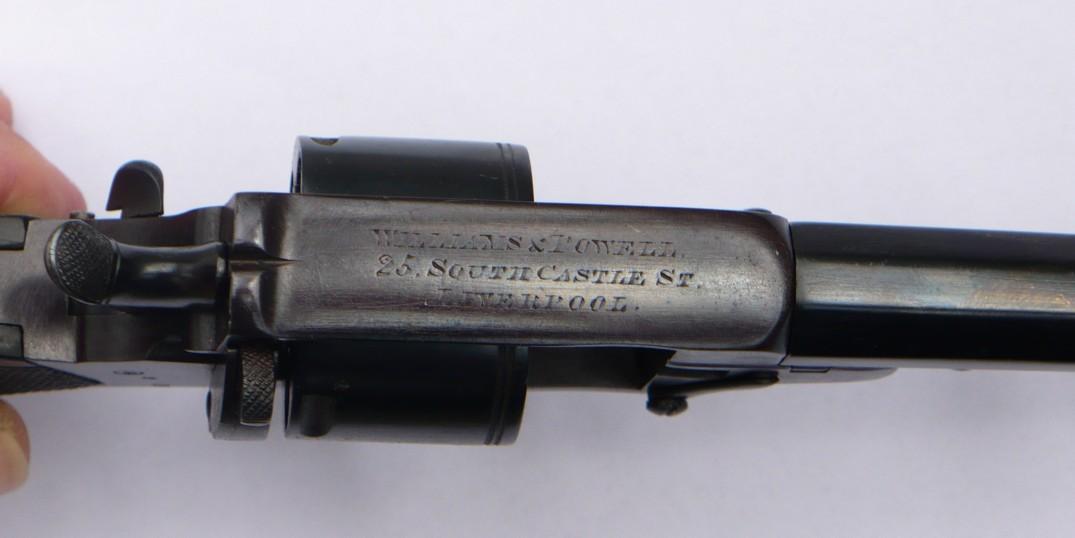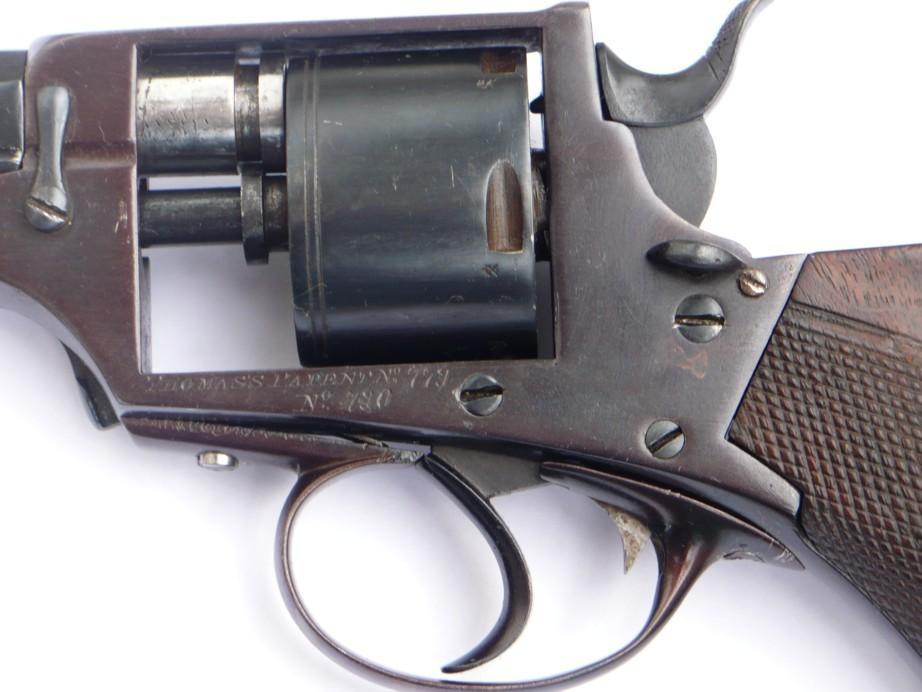 John THOMAS
John THOMAS living in Birmingham (GB), Slaney street, 66 in 1879-1883 and with the n° 67 in 1884, worked 8 years as foreman of the firm Tipping & Lawden. Firm which also manufactured the model of revolver illustrated here. It deposits on March 13, 1869 an English patent n° 779 for its "revolver with automatic ejection" and makes deposit in Belgium, in Brussels on May 18, 1869, by its representative Mr Kirkpatrick of Uccle, the same patent for improvements brought to the firearms with multiple shots, delivered on May 31 1869 under the n° 25565.
The weapon illustrated here is a revolver with barrel and cylinder slipping with star extractor.
While pressing on the pushbutton, one release the lever fixed at the lower part of the barrel and one makes him make a half-turn upwards. A helicoids movement uncouples the barrel and the casings are retained by a star extractor fixed at the breech. The extraction takes place by the rectilinear motion forwards barrel and cylinder. One notes a safety on the left side, under the hammer, and a door (on the right-hand side) tilting towards the back for the loading.
British punches of test under the barrel and on each room of the barrel.
Markings: On the left side, on carcass, under the cylinder "Thomas' s patent N° 779" and in lower part the number of the weapon "N° 369". The gauge "320" is mentioned on the barrel.
Mention "CAST STEEL" twice: on the side of the cylinder and, on the left side, on the barrel (with eight sides), nickelled completion.
On the top of the barrel one finds what must be probably the name and the address of the tradesman having proceeded to the sale: "W. Horton 29 Union St Glasgow".
Shooting in double action only (hammer with shortened tail) - 5 shots - rifled bore - grips in wood (drowning?) of only one part finely squared.
HPH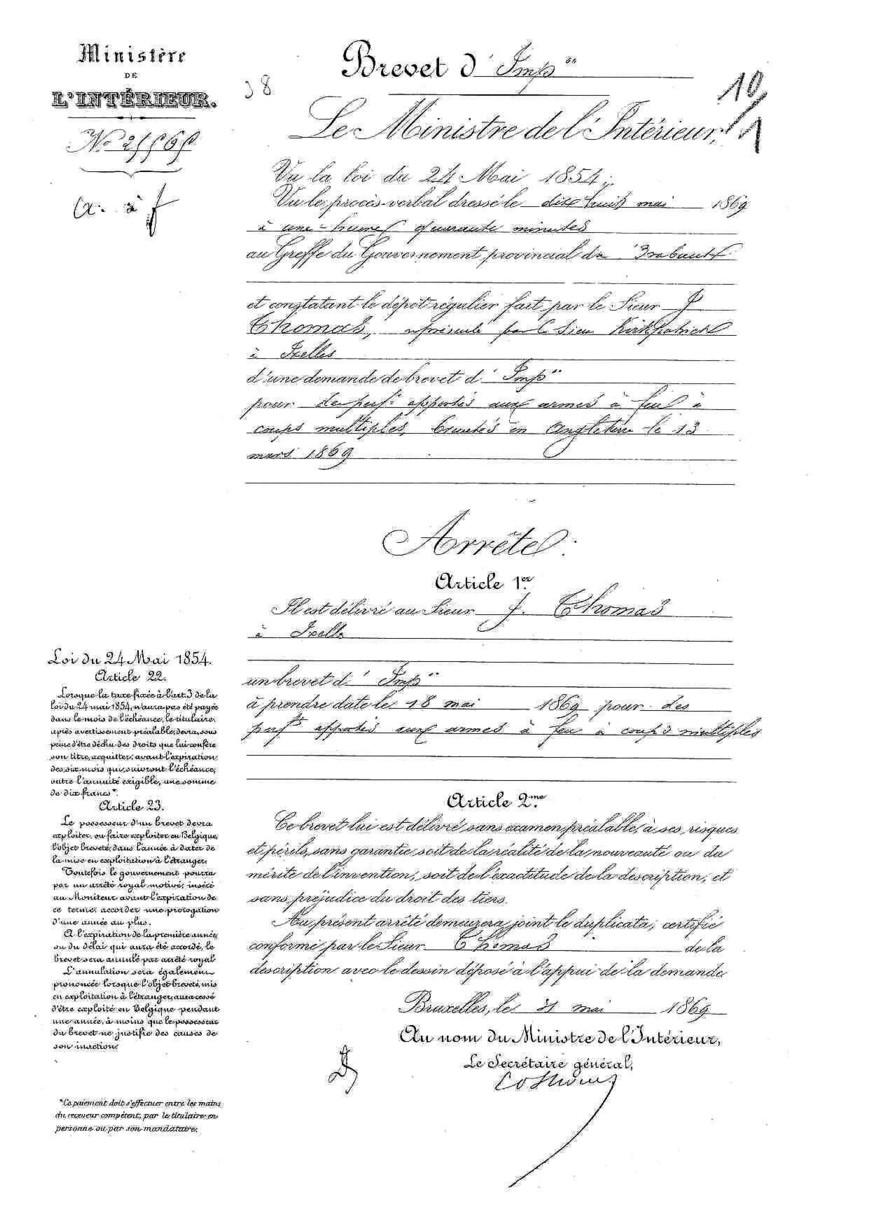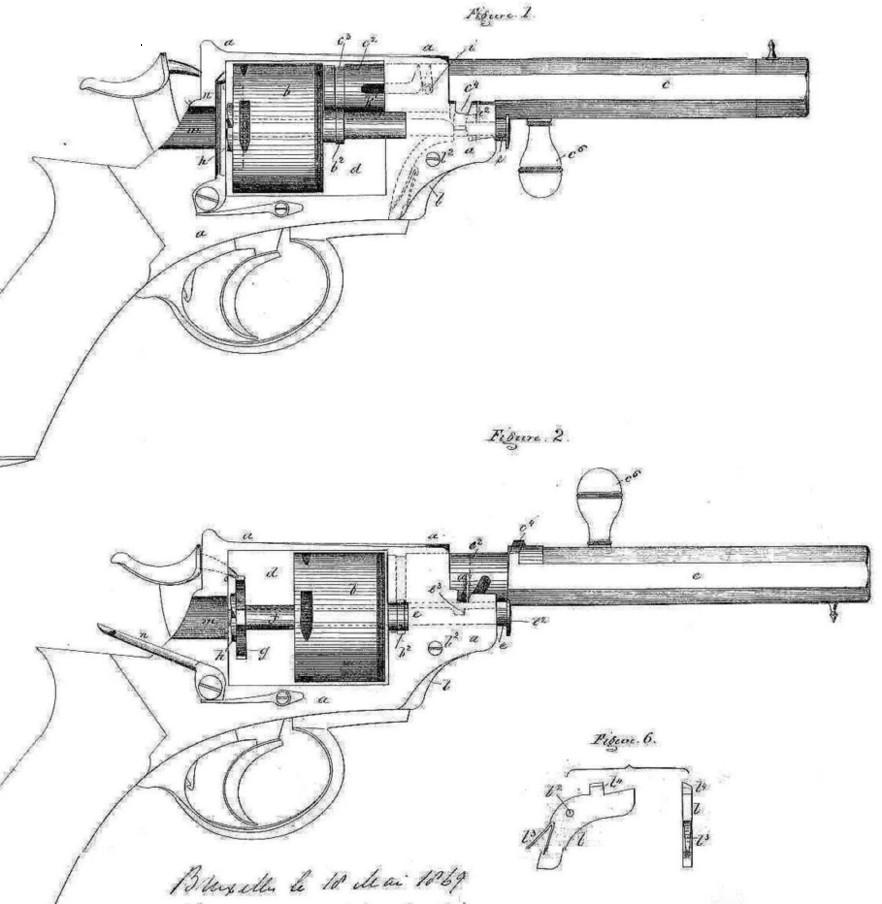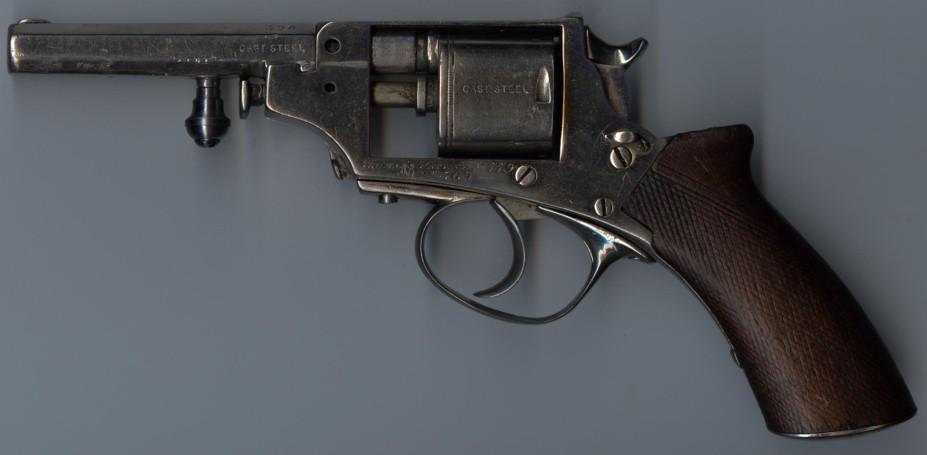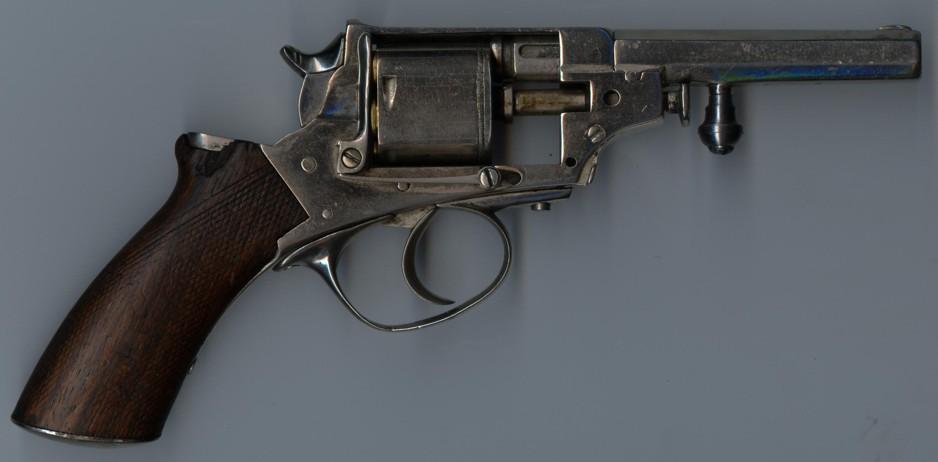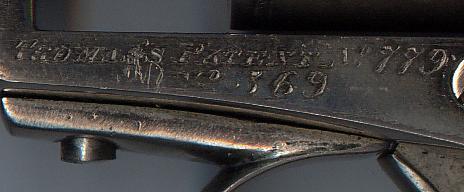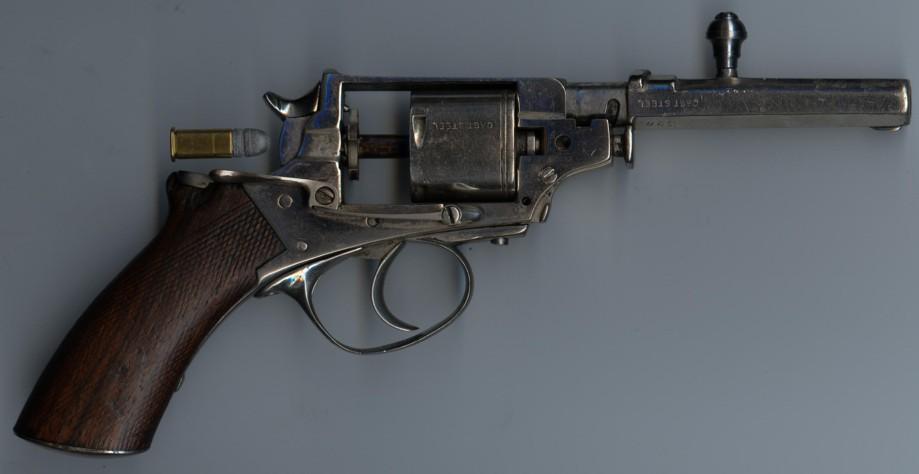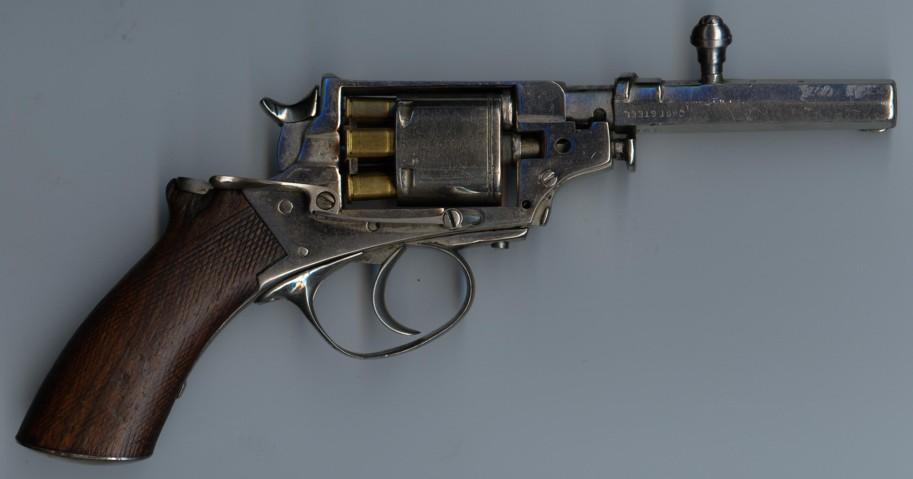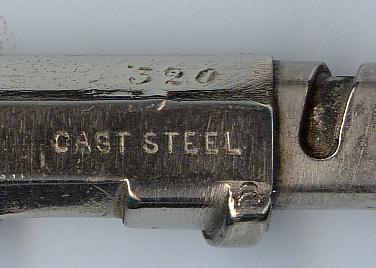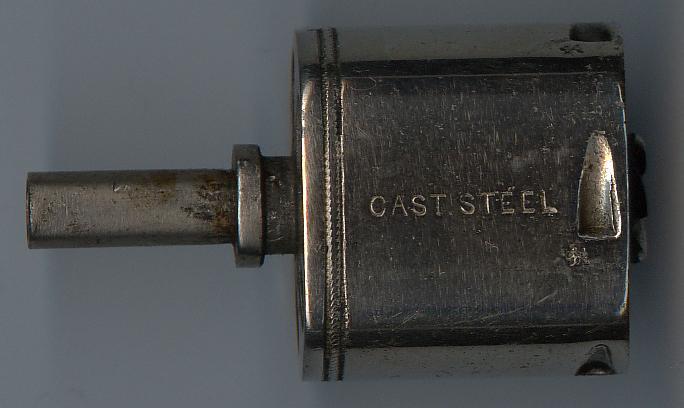 Thomas
English medium frame Thomas patent self-extracting revolver! Very unusual design allowing the cylinder and barrel to travel forward in order to extract empty cases, when rotating the barrel to the left. Left side of the frame is marked, "Thomas's Patent No.779, No.594". Left side of the octagonal barrel and cylinder display following wording, "Cast Steel". Cylinder bridge is marked, "C. Bell" (retailer?). Double action only. Cal. 38 CF.
Many thanks to "COLLECTIBLEFIREARMS" for the photos.