Angelo Galeazzi
2 very fine, valuable Over/Under, engraved Angelo Galeazzi, F.lli Piotti Gunmakers from Gardone V.T. Brescia - Italy, Bore 12 and Bore 20, completed in these days, news, and I have the pleasure of present these guns to you.
Every thing has been made with the greatest accuracy, from the choice of the stock made of fine well-seasoned walnut's wood, to the particular finishing touches and interior trims.
The gun has been precious by Master Galeazzi's engravings :
The result is a powerful work for the peculiarities that can only be found in the guns made by the best gunmakers and this work is a clear evidence of Master Galeazzi's ability, the result of a deep fondness and artistic maturity.
Galeazzi's work is known for its attention to details, the completeness and depth of the landscape/view and the softness of his touch.
His painting like scenes have a lifelike quality.
The Piotti's Over/Under represents the achievement of gunmaker's maturity.
Over/Under with patented barrels : demibloc barrels provided with a swallow-tail system makes them extremely strong and pressure-resistant.
The action, with integral tang, is made from a solid only steel block and all the lock's pins are in full from solid block too.
These workings are carried out by means of traditional tools and not by electroerosion.
All work's actions, included the barrels, are carried out inside the Piotti's Firm.
(Piotti Gunmaker has received in the 18 Sept. 2004 the Gold Medal for the mostoutstanding Italian gun, at the Eighth Gold Medal Concours of Elegance of Fine Guns at The Vintage Cup, Millbrook, New York).
The Master Galeazzi's creative capacities and maturity to……."cut the steel with the burin/bulino……." matched with the accurate and refined mechanics of Piotti gunmakers have changed these guns into a collection's jewels , jewels that you could see now with the attached, detailed colour photographs.
Over/Under Extra De Lux Model – Extra Catalogue – Piotti Gunmakers – Engraved Galeazzi –
Bore 12 – Total Weight K. 3,320 –
Barrels 71 - Weight K. 1,470 - R: 3/10 - L: 7/10 - 0/ 18,5 - 18,5 - Stock mm. 380
Bore 20 – Total Weight Kg. 2.980 – Barrells cm. 74 – R. 3/10 – L. 7/10 – Stock mm. 380
English Stock, extra wood, up grade walnut. Very important : the guns have been proven to test bench at 1370 B. with its original stock !
"S" of safety – F.lli Piotti name – Matriculas's number, lines on barrels and Sight in Gold.
Single Trigger.
Automatic safety.
Action with integral tang.
Hand detachable locks.
Leather case with accessories.
Full life guarantee.
Manufacturer's certificate of Piotti.
Manufacturer's certificate of Test Bench.
Written certificate of Master Galeazzi.
Anna Galeazzi
Bore 12 :
Left action Setters on mallards
Right action Canada geese's flight with decoy in ground bait
Bottom action Landscapes with raising of pheasants in the wood
Head of bascula chiselled.
Foliate and floreal scroll.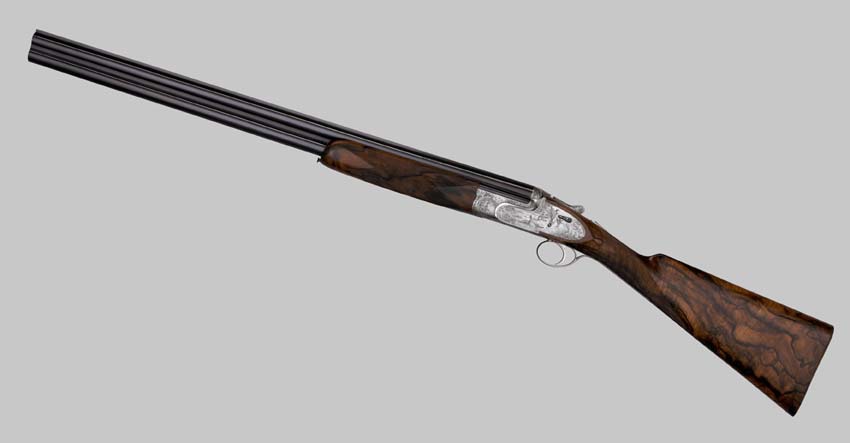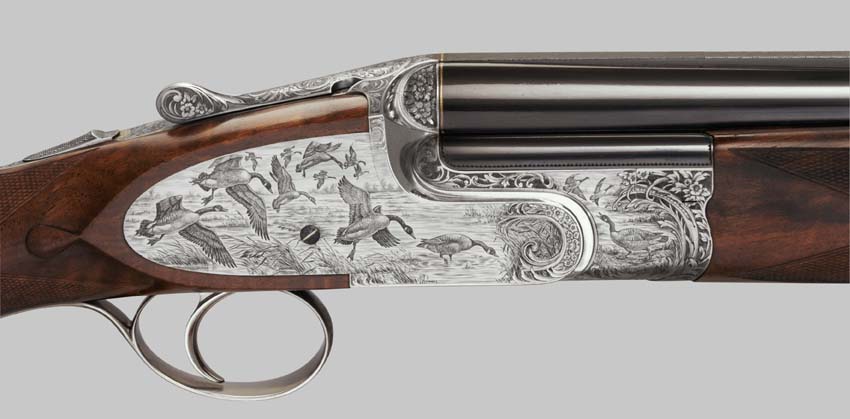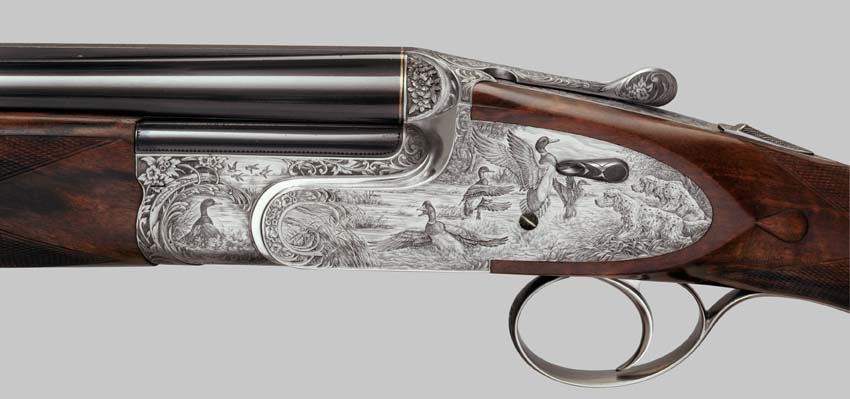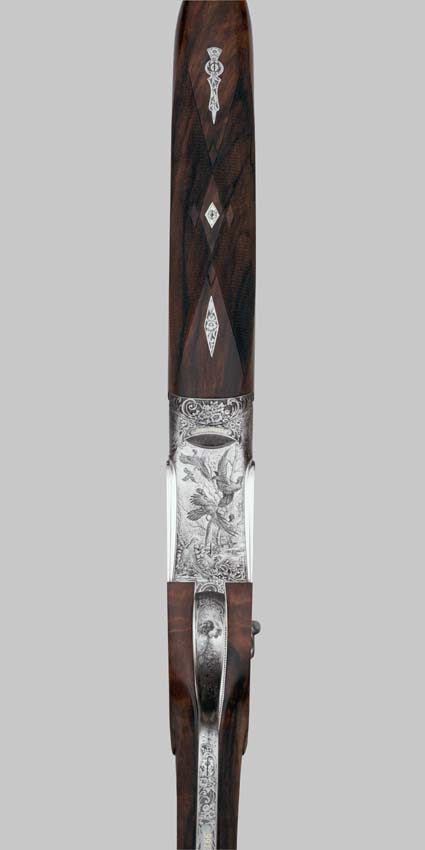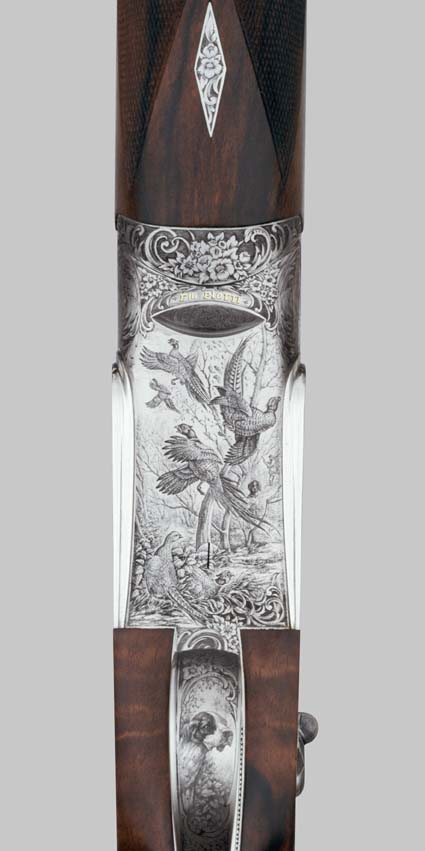 Bore 20 :
Left action Bloodhounds with prey and landscape
Right action Pointers on mountain's grouses
Bottom action Partridges's raising with Setters
Head of bascula chiselled, foliate and floral scroll.