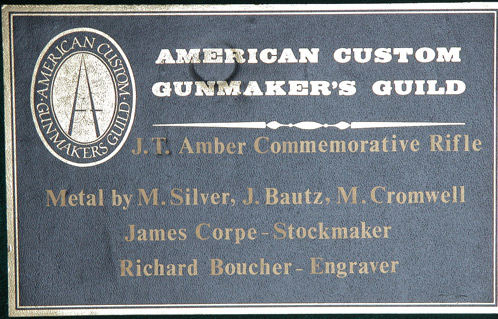 26" Douglas barrel with full-band front sight and swivel base, quarter rib with 1 standing and 2 folding express sights.
Highly figured California.
English walnut stock by James Corpe with pancake cheekpiece, smooth horn forend tip, scalloped horn PG cap and checkered horn buttplate.
Hagn falling-block action with sculptured lever by Mark Silver. Zeiss Diavari-X 1.5-6x42 scope on Vienna-type quick-detachable mounts, hand made by Mark Cromwell and fitted directly to quarter rib without separate bases.
Extensive coverage, gold-bordered, acanthus scroll engraving on French-gray receiver by Richard Boucher and with ibex to left and fallow deer to right in raised relief gold.
Weight: 9lbs, 11oz with scope.
Huey oak & leather case with engraved accessories and commemorative label.
Built in 1996.
Photographs authorized by "HALLOWELLCO"