Daniel Moore
Exceptional Moore Revolver, close to factory mint. And this is the early version witht he long hammer spurr and larger grips.
First Us revolver where the cylinder swing out of the frame.
Caliber 32 rimfire.
The barrel has 5 inch, it is factory engraved.
Photos Littlegun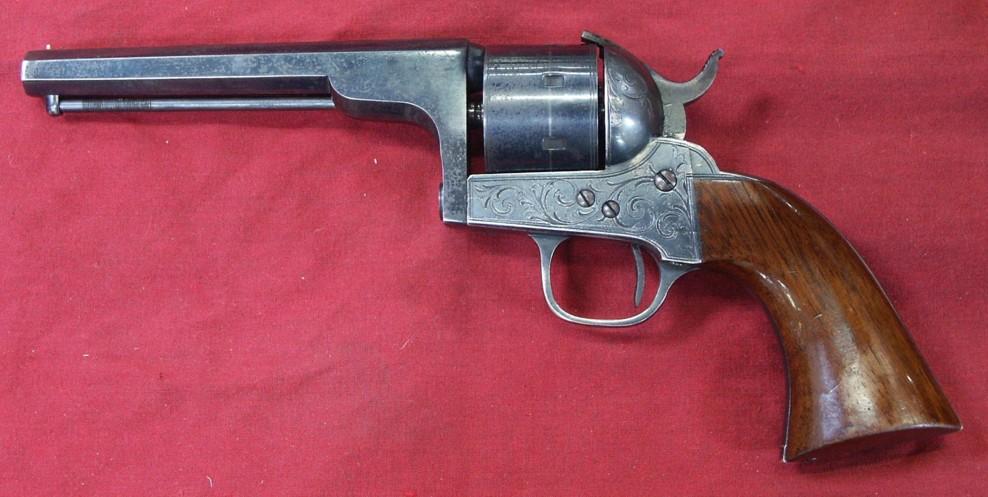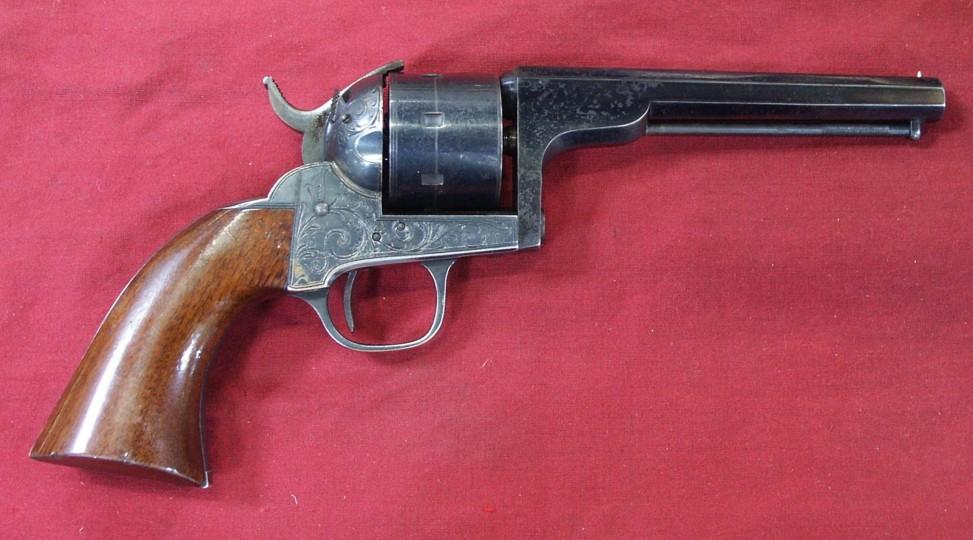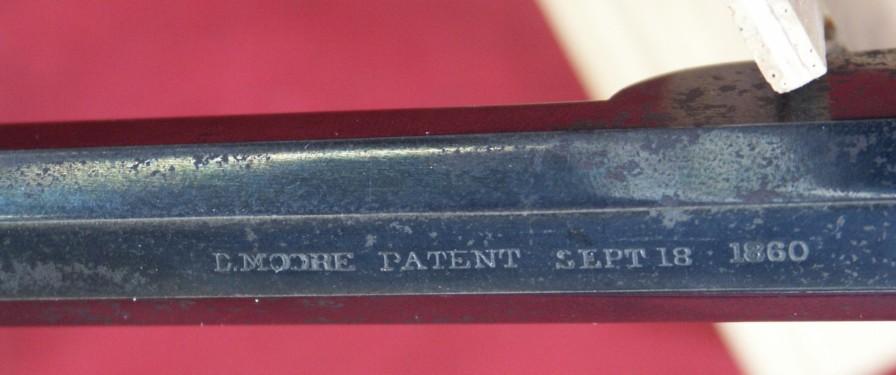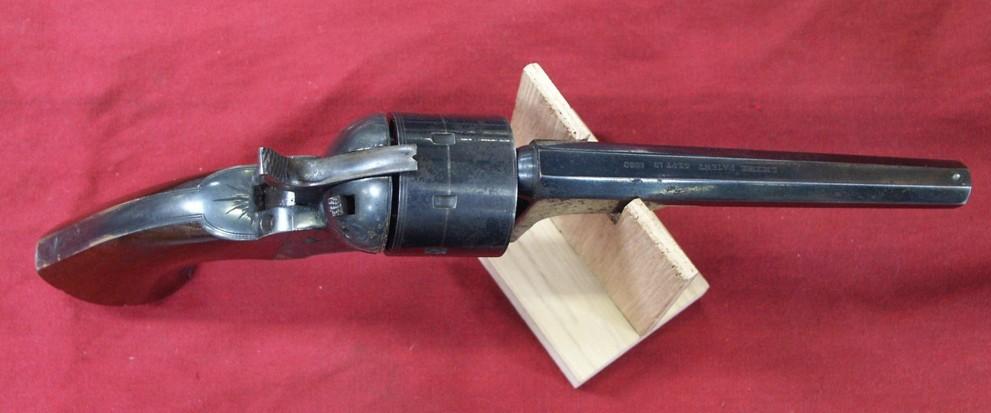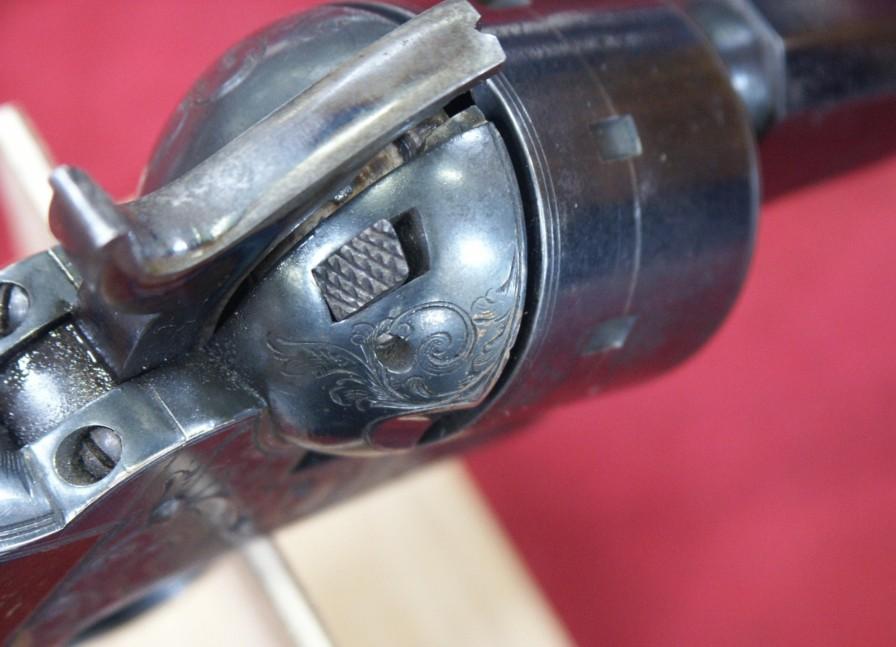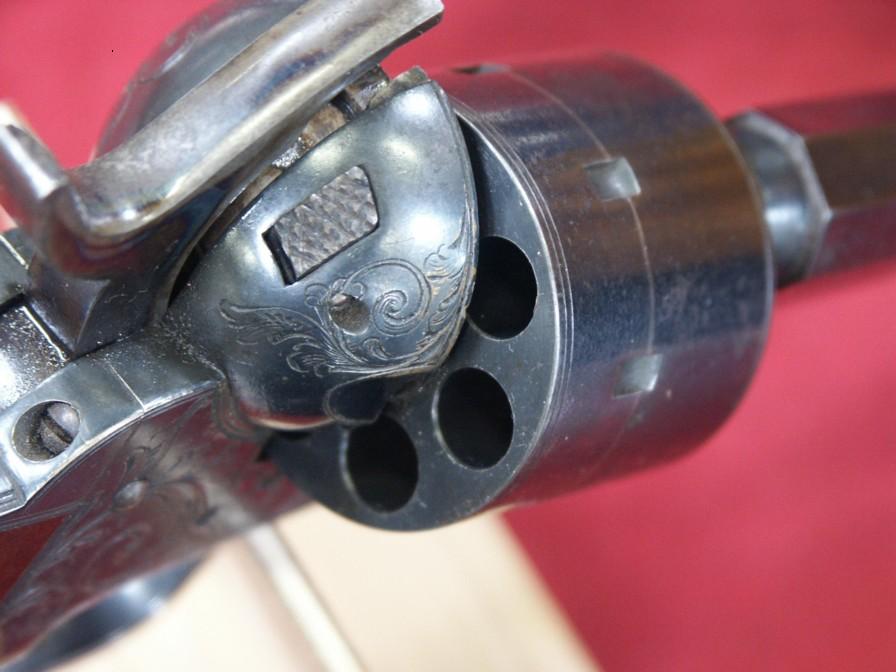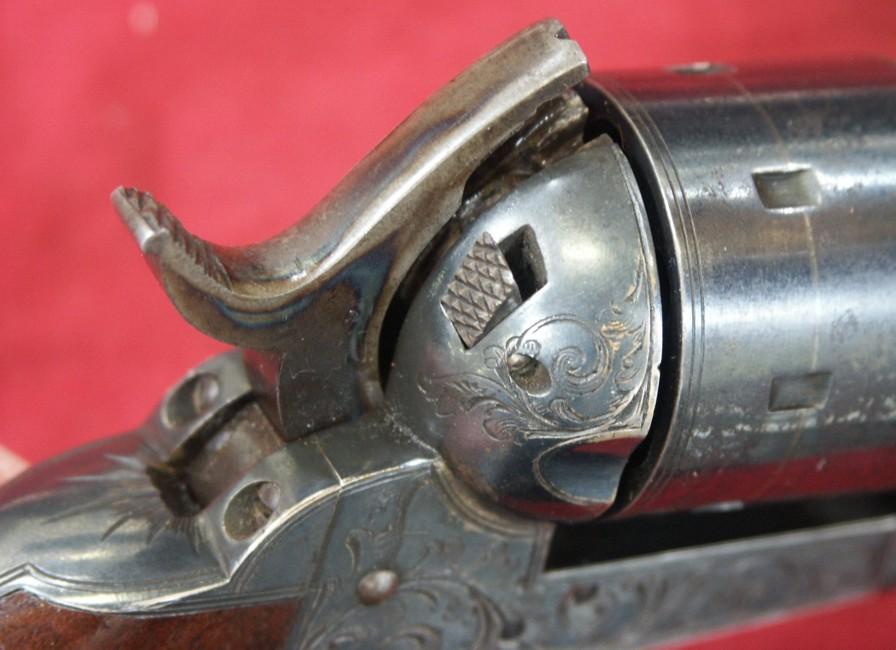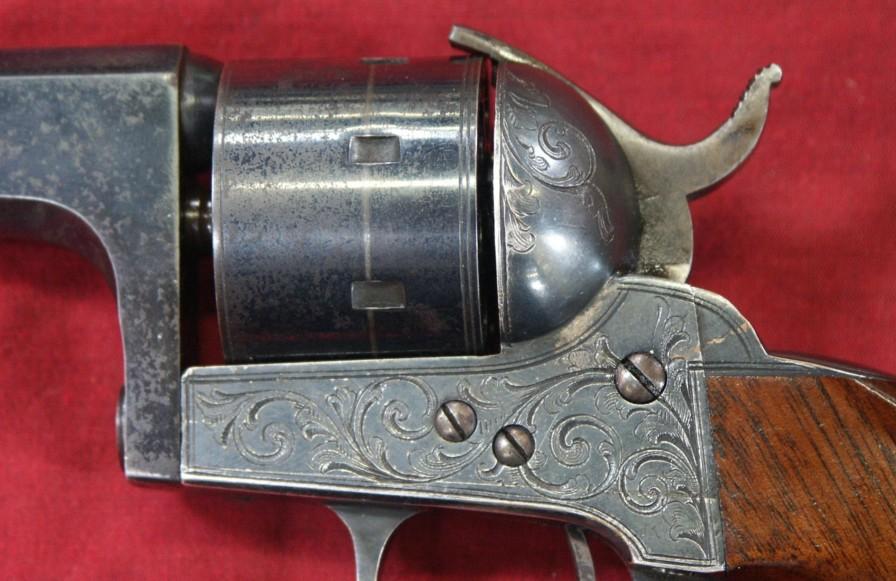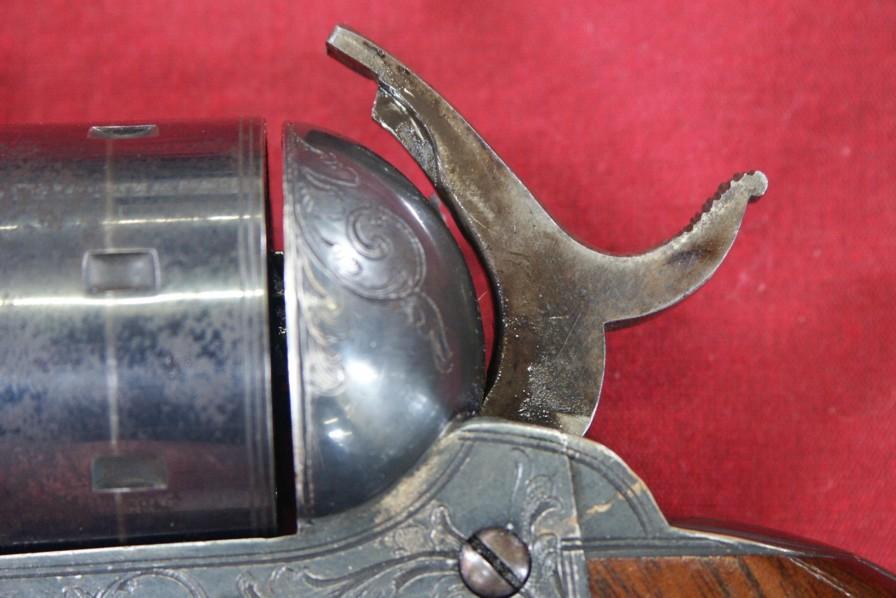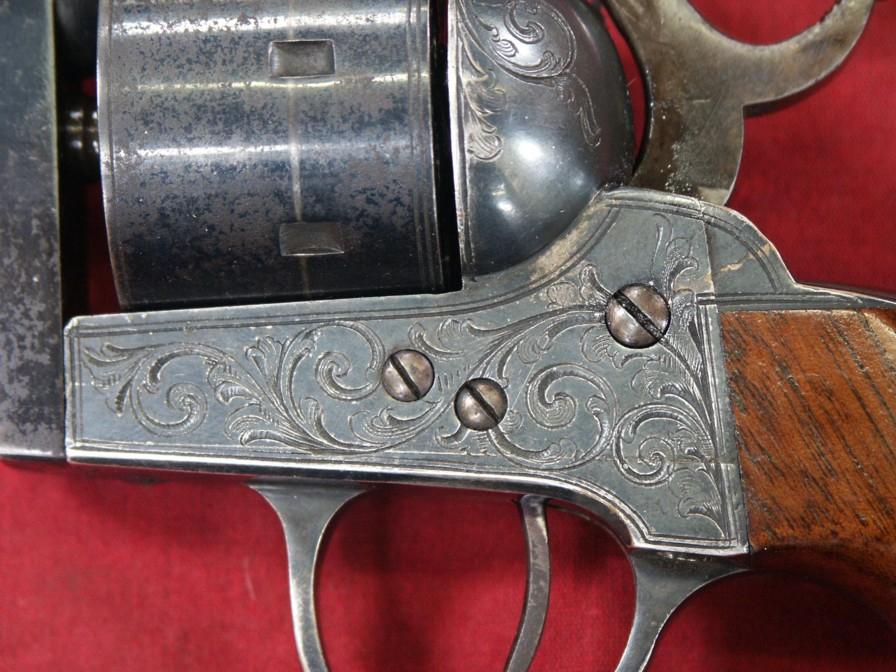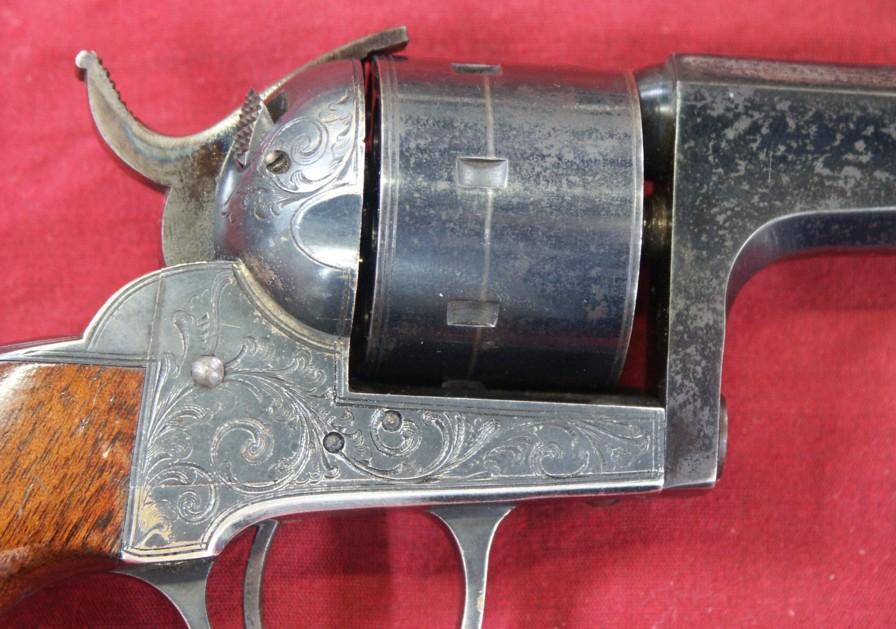 Revolver Daniel Moore
Seven-shot .32 caliber rimfire revolver, manufactured by Daniel Moore of Brooklyn, and patented by him on September 18th, 1860. This gun is the very first revolver with swing-out cylinder ever produced. With the hammer in halfcock position, a pressure on the catch located right from the hammer on the recoil shield allows the barrel and cylinder to be swung out to the right for loading.
Sturdy and very well made, this revolver was in its days a lot forward on all its competitors. Unfortunately for Moore, its bored-through cylinder made it also an infringment on the Rollin White patent, that was then owned by Smith & Wesson. As they usually did, S&W filed a claim, which resulted in the turn-over to S&W of 18,072 unsold revolvers by 4 companies in settlement of the damage claims. The mention "Manufd. for Smith & Wesson by Moore's Pat. Fire Arms Co" was stamped on the barrels of all turned over revolvers prior to sale.
This one bears the early serial# 3134 and does not have this mention, which indicates it was sold before the trial.
Excellent weapon, featuring a factory hand-engraved brass frame. Without the infringment problem and with a plain frame, the Moore could undoubtedly have seen military use during the Civil War.
Marcel
A French firm manufactures the necessary to reload this type of ammunition.
Look at here: H & C Collection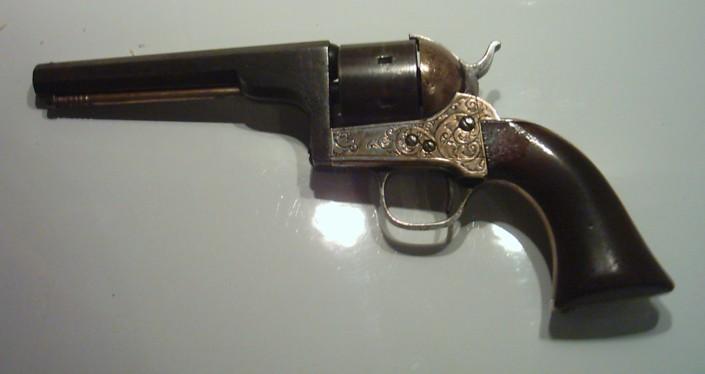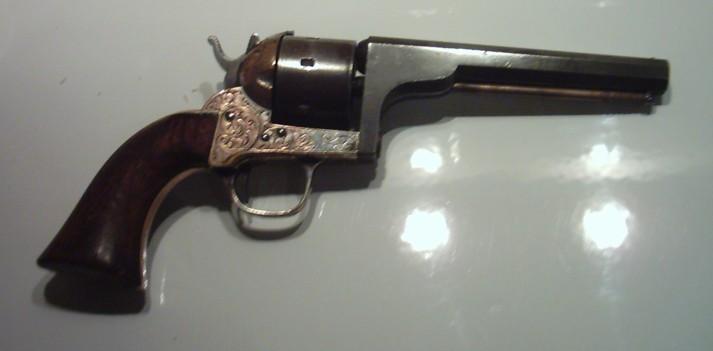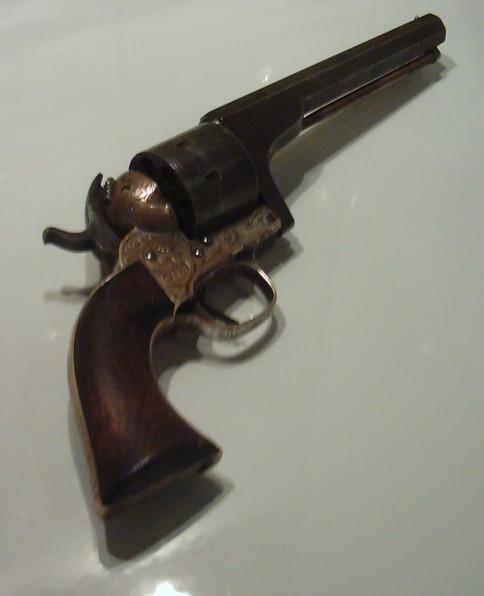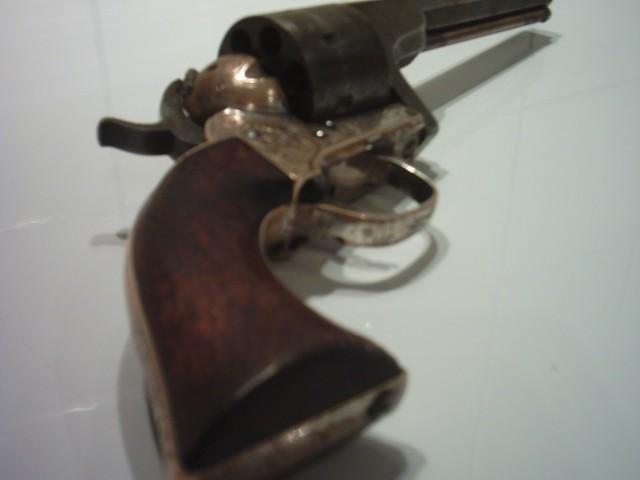 The same with a superb engraving and mention
"Manufactured for Smith & Wesson by Moore' S fire arms Co"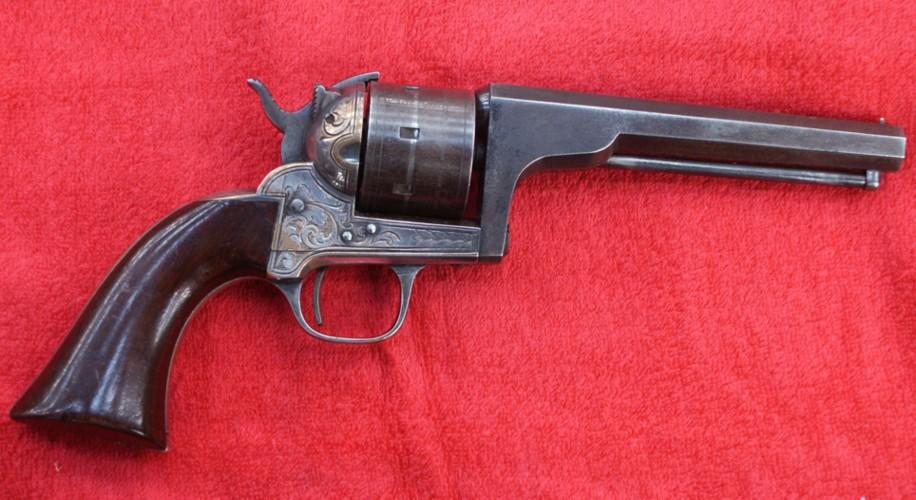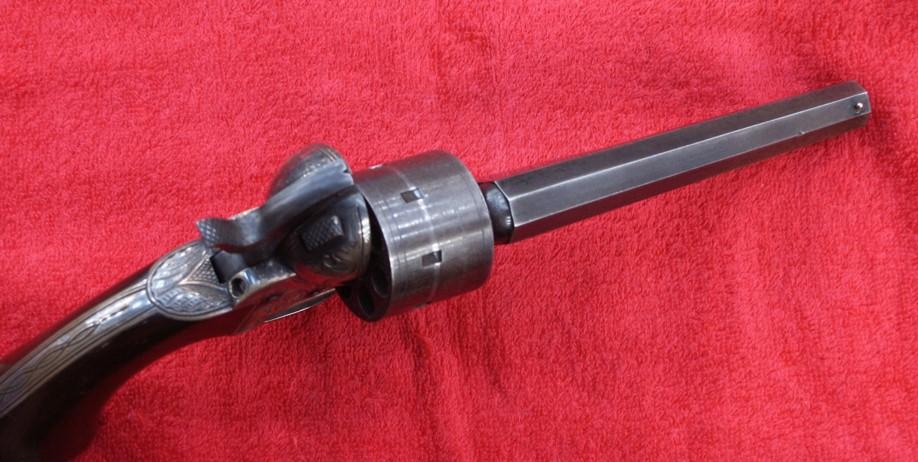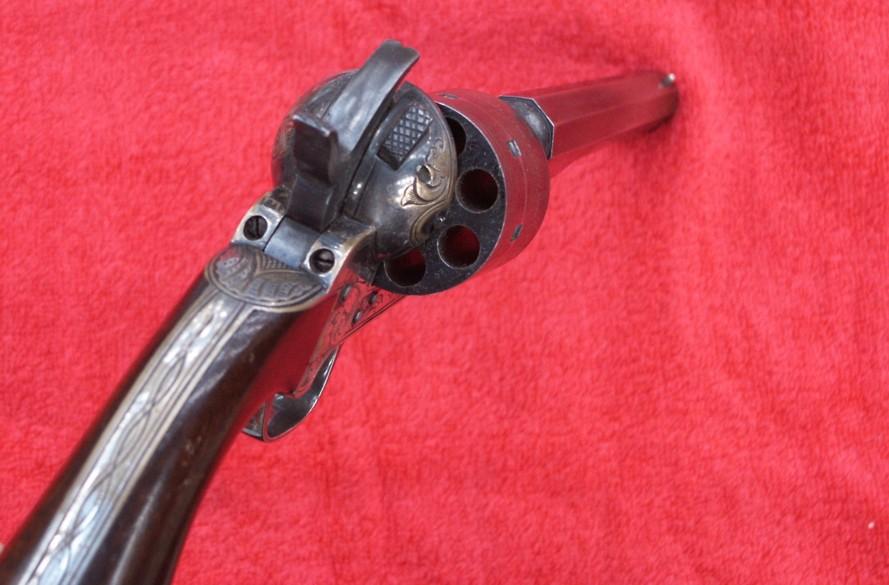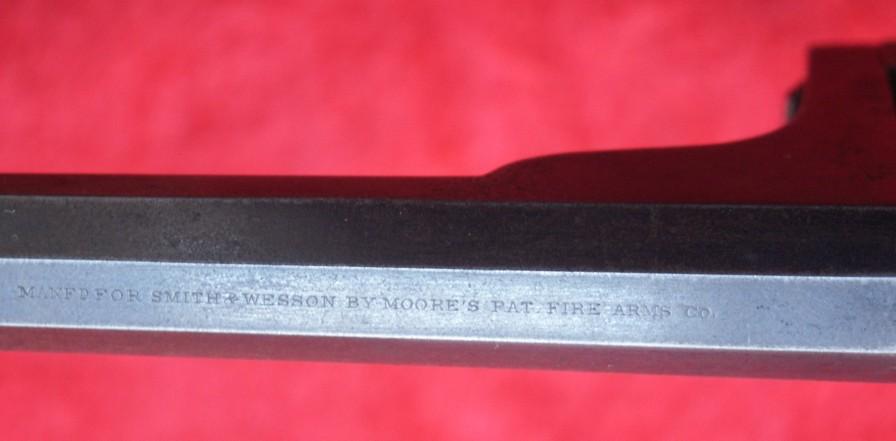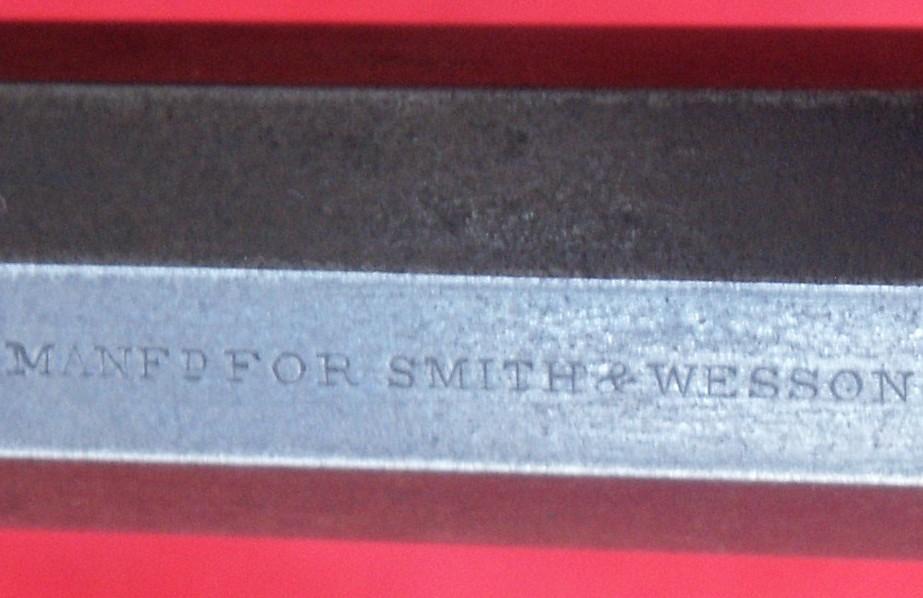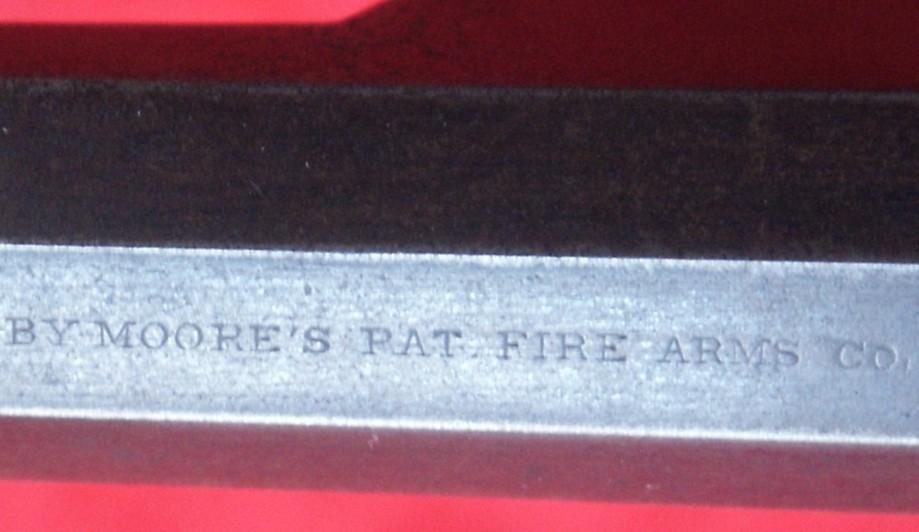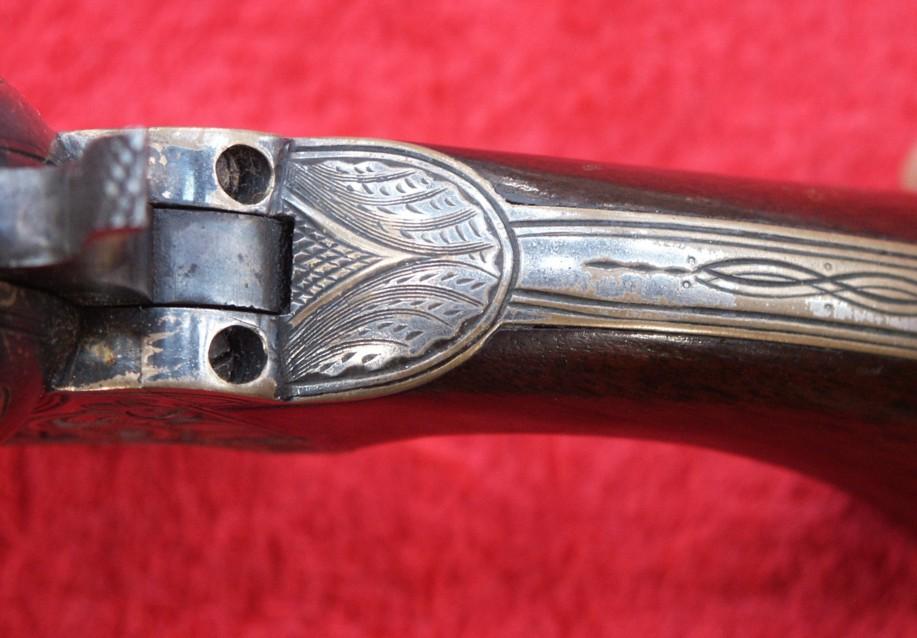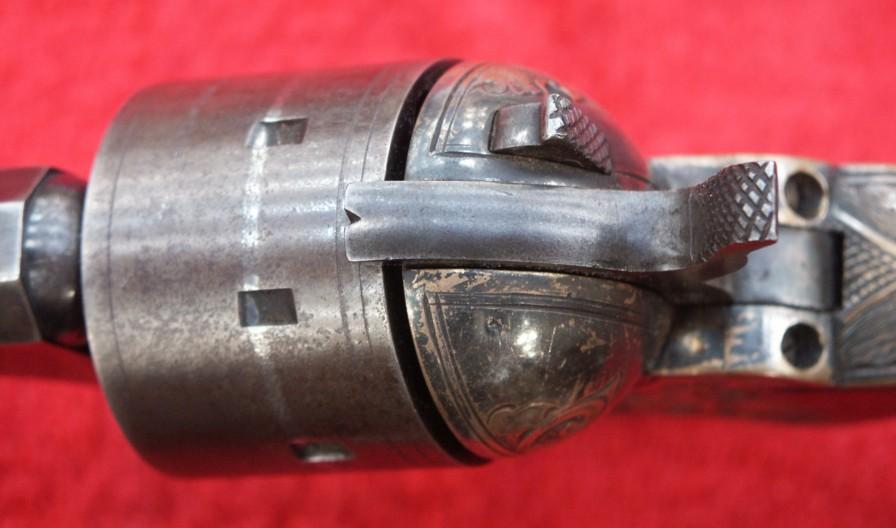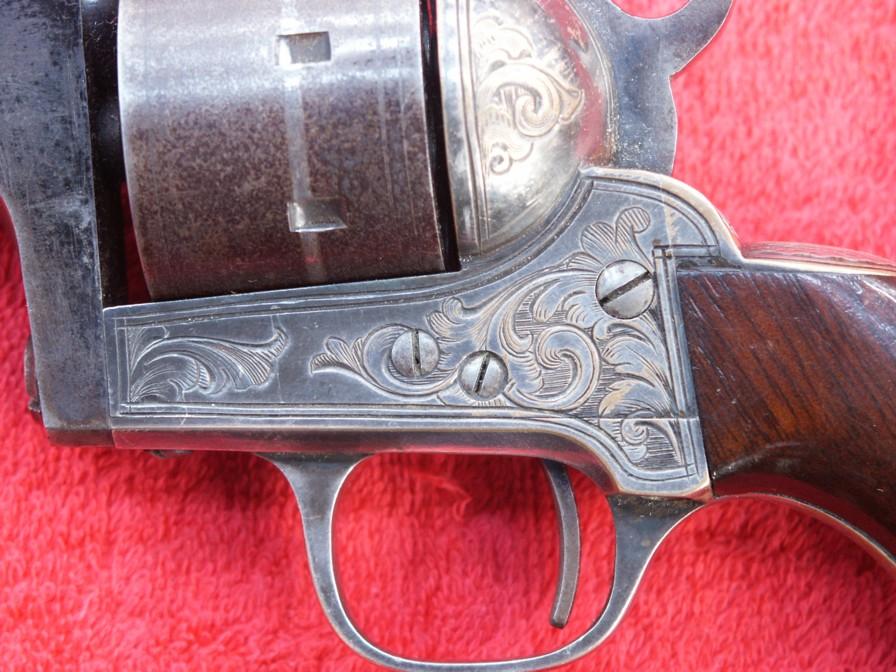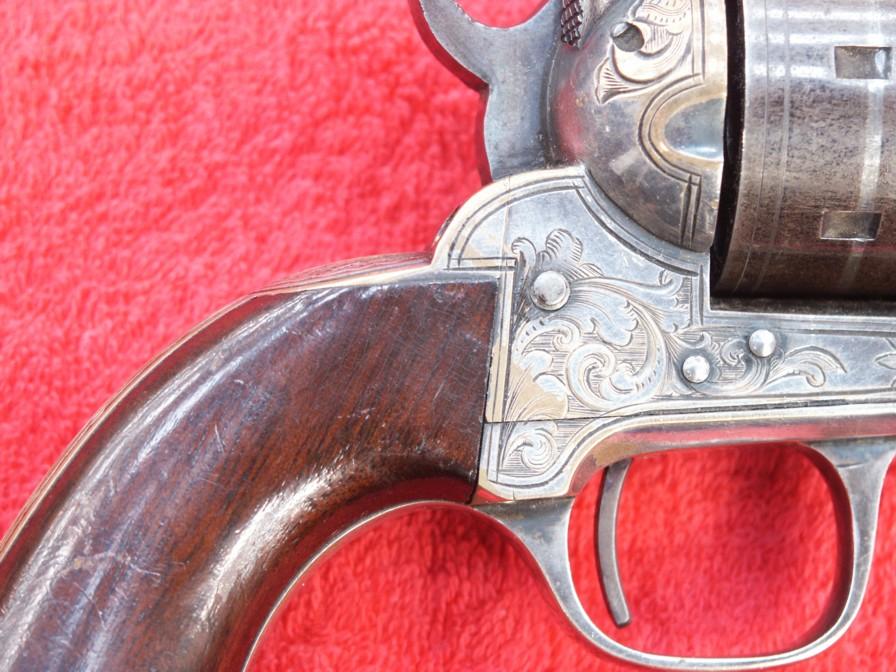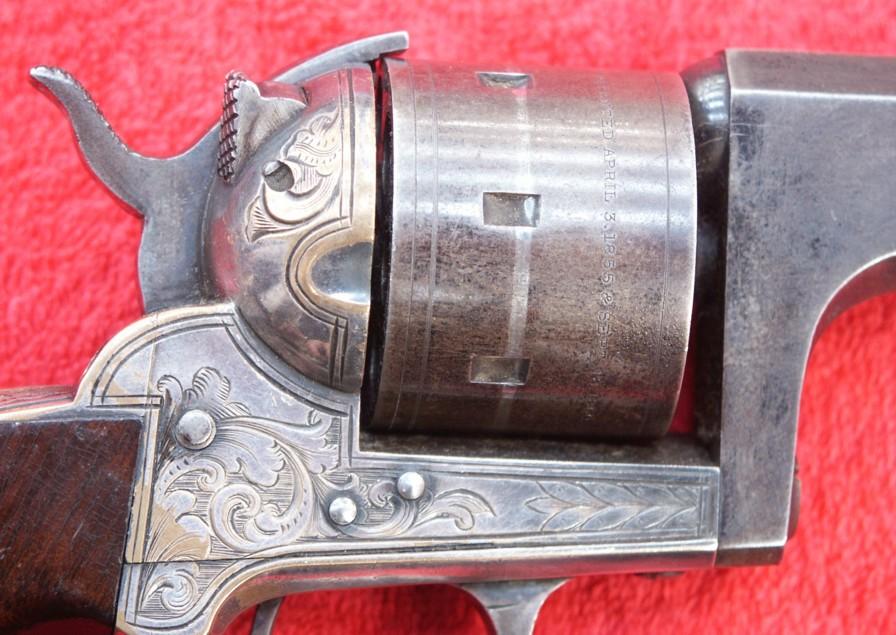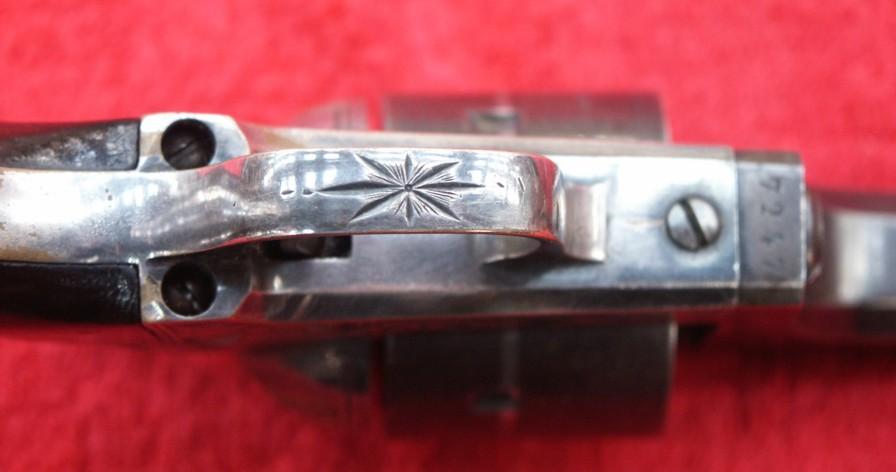 Moore
Moore's Patent Firearms Co. "S.A. Belt" Revolver
32 cal. r.f., 7-shot, 4" oct. bbl. Factory engraved, brass frame, and one-piece walnut grips.
Thanks to "CWSLAGLEANTIQUES" for the picture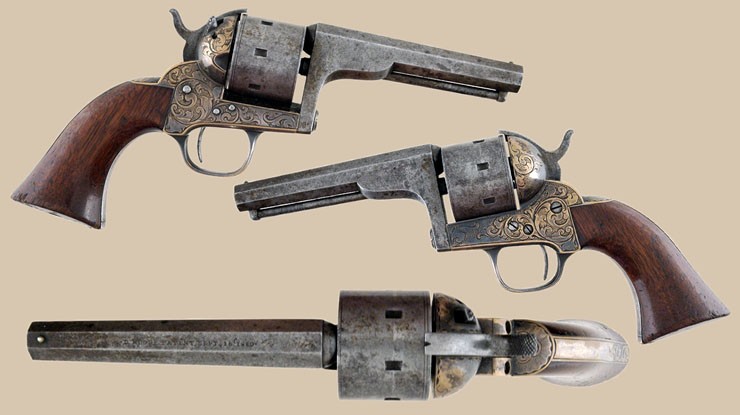 Revolver Teat-Fire de Moores
Circa 1865: 32 caliber revolver.
This gun was made during the decade when Smith and Wesson had exclusive rights in the US to manufacture guns with bored-through chambers based on the Rollin White patent.
This gun was designed to circumvent the Rollin White/Smith Wesson patent. The chambers loaded from the front with cartridges that held primer in nipples which protruded from the rear of the cylinder.
Roger Papke