Jean-Baptiste Lainé
According to Buigné and Jarlier, it is about a rifle of the house Jean-baptiste Lainé, 21 street of Rivoli in Paris, (undoubtedly the J three circles and L mentioned), which deposited several patents between 1867 and 1875. Including one in 1872 for a rifle double shots, then in 1873 and 1875 for improvements. Perhaps for this French "drilling"?
Jean Baptiste LAINE was a manufacturer of weapons to the 21 street of Rivoli in Paris, Patent in 1867 on an extractor rifle, in 1872 on a rifle with 2 shots says "Lainé system. "It had several gold medals to the expositions of 1855, 1863 and 1867.
The house exists since 1835 but at another address, to the 222 street Saint Antoine, probably the father, but I don't have details.
But also let us note that Stöckel mentions that Lainé patented in 1858 a drilling according to a Comblain system.
"Who's Who arms manufacture of Liège" does not say anything on this Comblain patent for a drilling.
Oscar (Belgium)
JJB (France)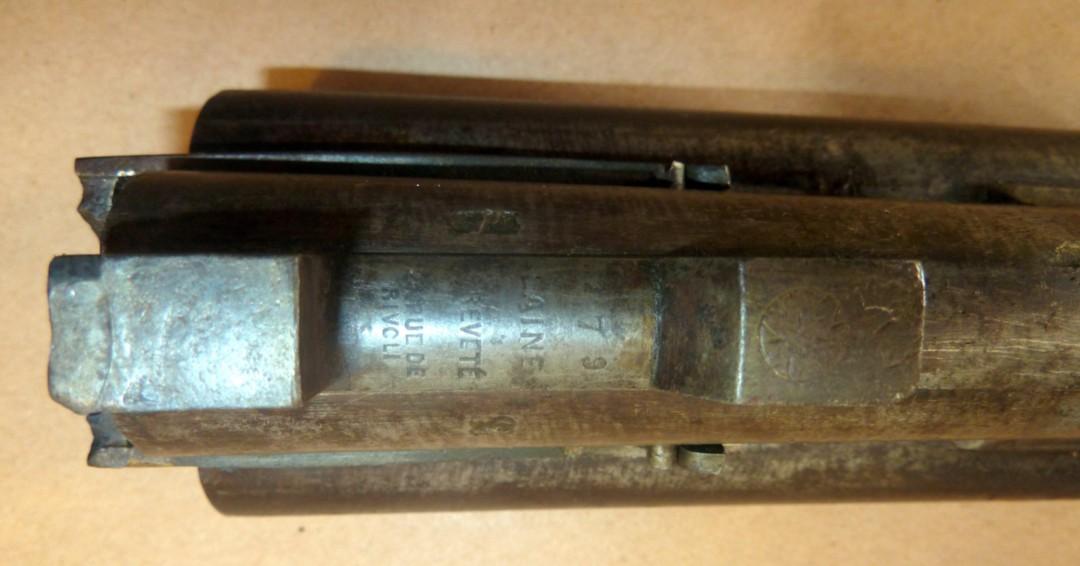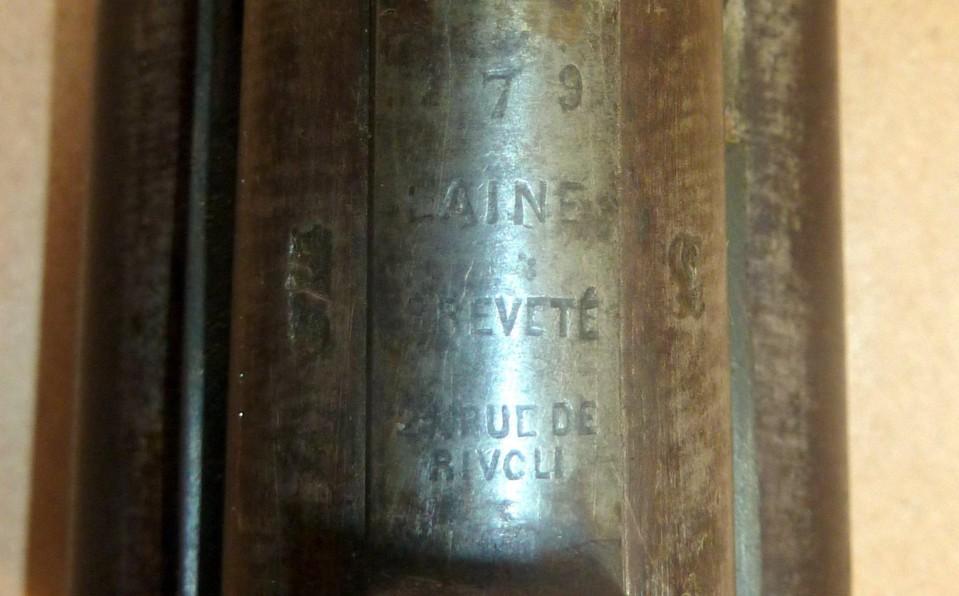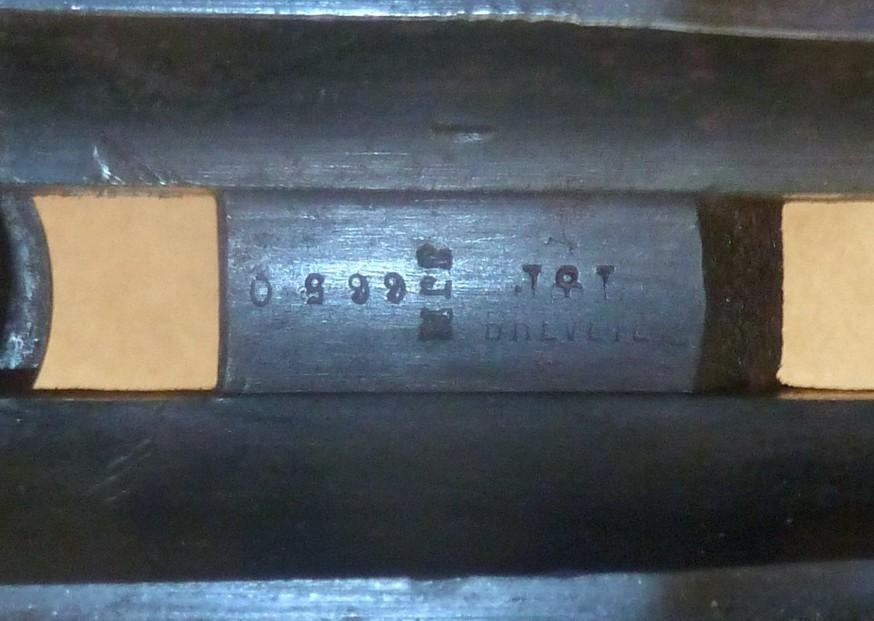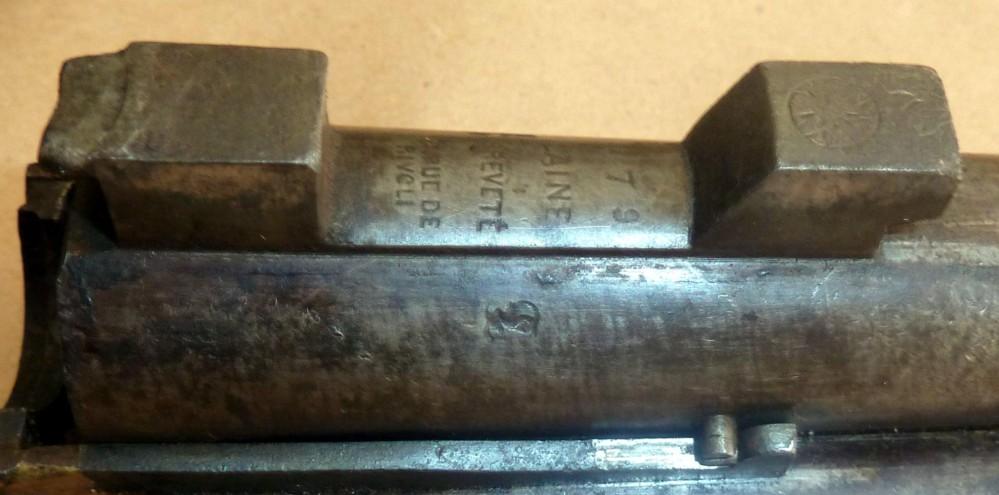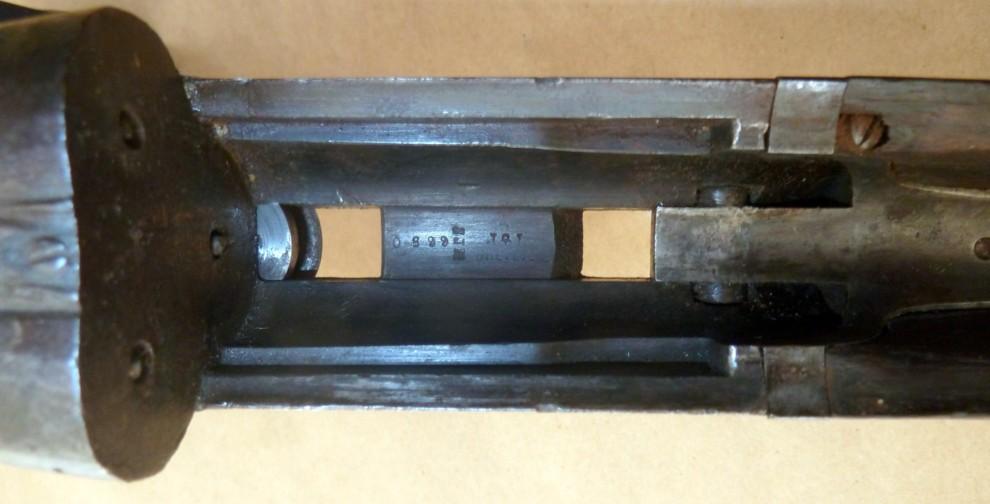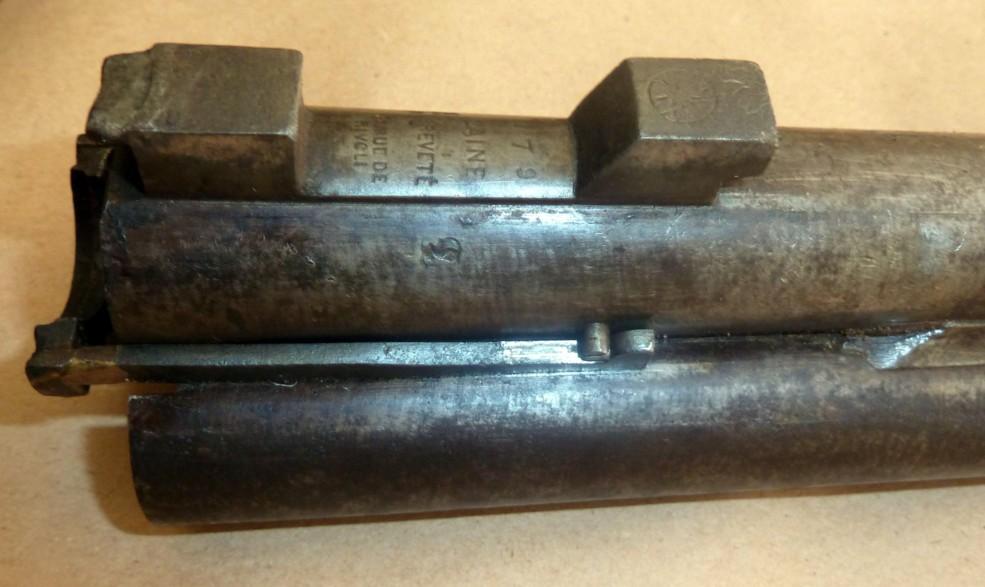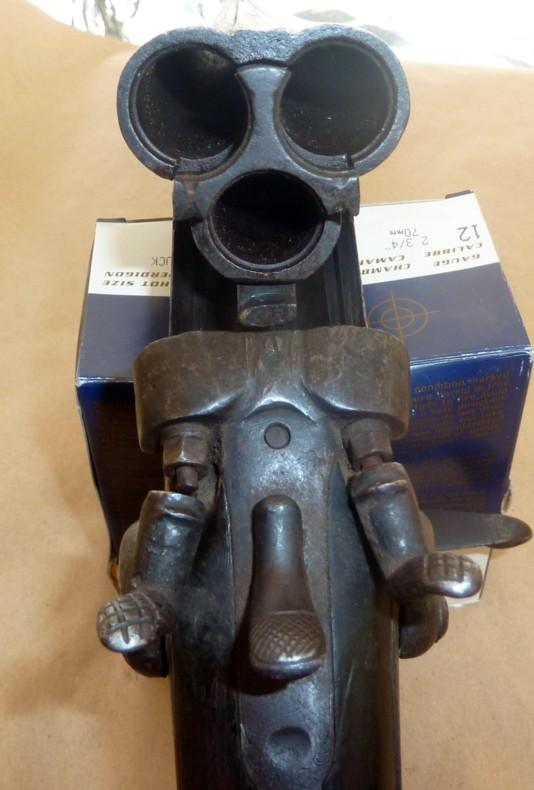 Lainé
You can use these pictures of a rare pinfire revolver.
It is a P.Drivon's patent no 66991 April 11 1866.
Made by Laine 21 rue de Rivoli Paris.
Caliber is 7mm.
The patent drawing is in the book the Pinfire system page 234
It is really a beauty.
Henk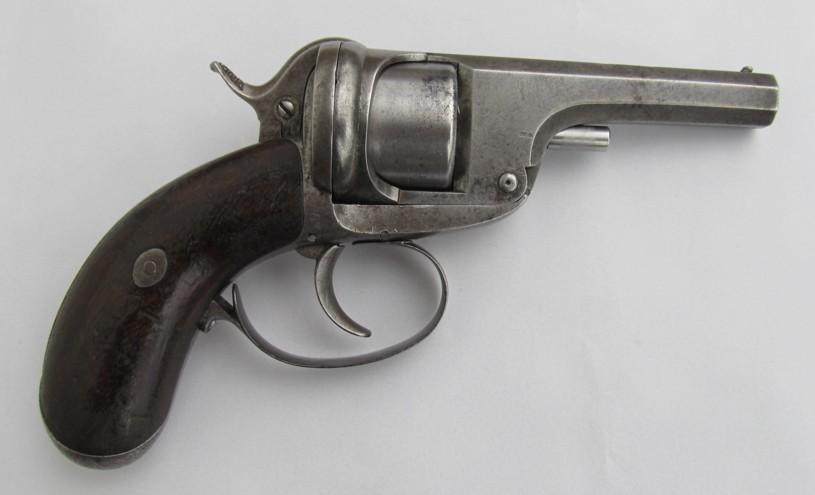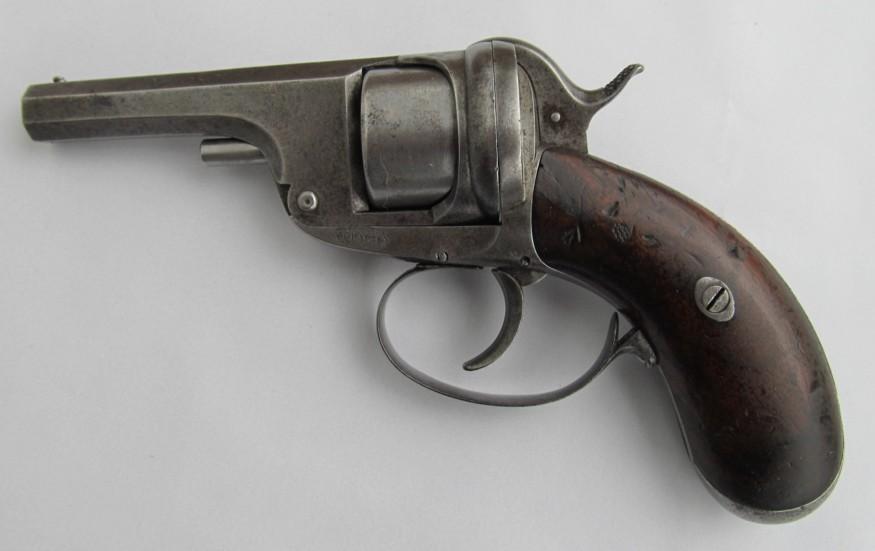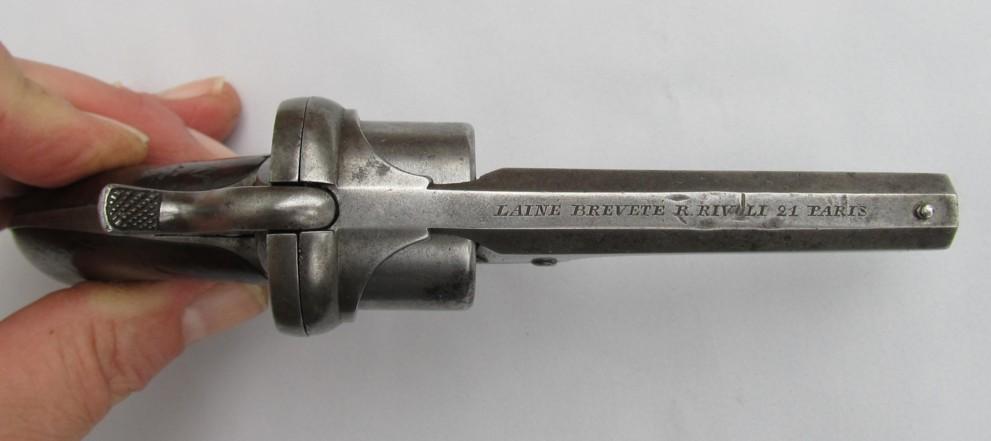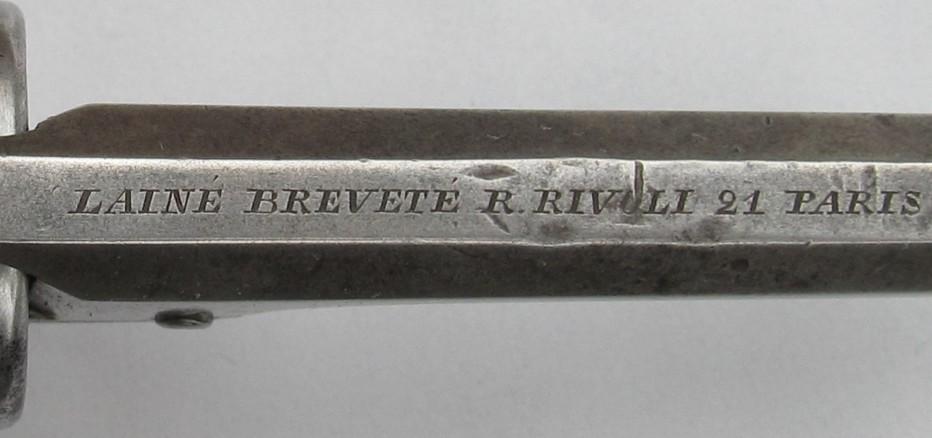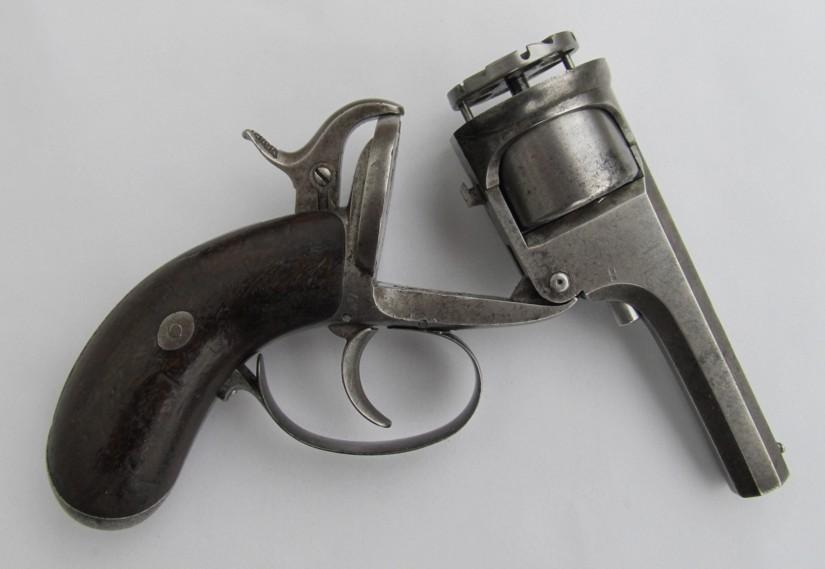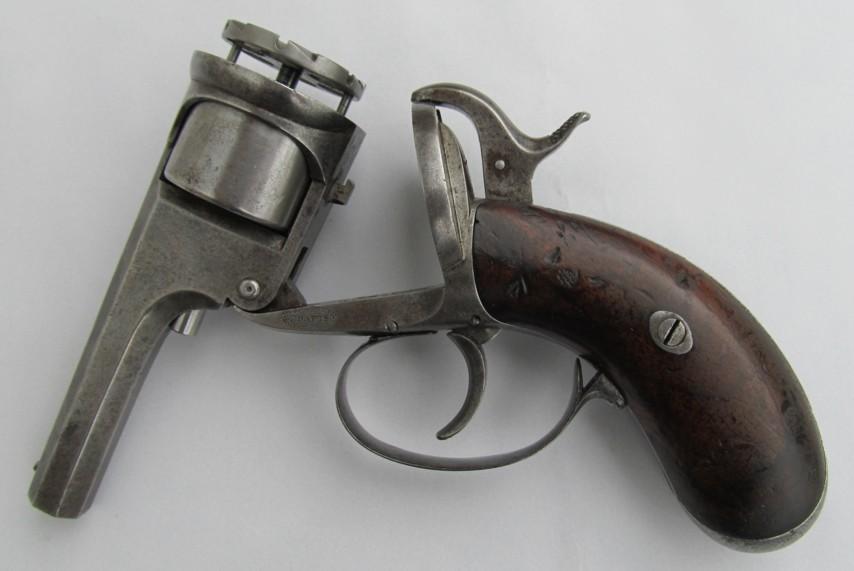 Laine
The weapon
Copy of Liège of the famous COLT Navy 1851 which one does not describe any more.
COLT deposited the patent of this weapon in Belgium the 21.08.1849 per one 14 years duration.
So that this patent is valid it was to ensure of it manufacture in Belgium during one 2 years time.
It had like agent in Liege, the manufacturer DEVOS who was registered with the proofhouse of 1841 to 1852. This one was charged to find firms of Liège agreeing to ensure this manufacture. It was also charged, to discourage the forgers, to apply to all the revolvers manufactured under license marking COLT PATENTS in 2 lines or COLT PATENT in 2 lines also for the weapons intended for the export as of the Anglo-Saxon countries. Quickly however this mark was also imitated so much and so that COLT ended up giving up the part after however of many actions at Law.
DEVOS himself was suspected of counterfeit.
Patented Belgian was produced in Liege of 1851 to 1863, the total number as of these weapons manufactured legally by about fifteen firms, would border the 20.000 units.
All are unfortunately not signed, far is necessary oneself some, and it is sometimes quite difficult to make the difference with the counterfeits.
The majority of these weapons are manufactured out of cast iron and are thus of a quality lower than the originals.
Punches
The present part carries two punches of the proofhouse of Liege, namely:
Spangled ELG in an oval: final acceptance, of use of 1846 to 1893.
N crowned: countermark of the controller of use of 1853 to 1877.
These two last dates give us the period of manufacture.
Marks
This part does not carry obviously the mark of the manufacturer of Liège.
The mark LAINE BREVETE Arq. Street Rivoli, 21 PARIS is, of course, the mark of the Parisian retailer, which bought weapons in LIEGE cheaply and resold them after y to have struck its commercial reason.
GG