Rossi
In annex, photo of a catalogue Rossi showing one old "garrucha" who was manufactured by Rossi.
Rossi is the oldest manufacture of weapons that we have here, and it's still in activity.
It was established in 1889 by Amadeo Rossi and is located in the city of Are Leopoldo, in the State of the Rio Grande Do Sul.
At the beginning Rossi manufactured agricultural equipment and weapons very simple destined to simple people, who lived in general of agricultural area.
Later it started to manufacture rifles of loading by the breech of one barrel and revolver in .22, calibre, 7 shots, and copy to the S&W Lady Smith.
Throughout its time the Rossi comes improving slowly and already it manufactured:
- Many models to revolver in carbon steel and in inox steel.
- One Barrel shotgun models "Pomba" and "Pampas", in 12 gauge and 9,1 calibre.
- Double barrelled shotgun in models "Bonanza" and "Overlnad" (of 36 the 12 gauge).
- Carbines in .22 LR.
- Carbines model "Puma", copies of Winchester 1892, in calibre .38, .357, 44-40 and 44 magnum.
Go to its height in the late 20 year of XX Century , when it manufactured weapons with excellent finishing, it had stamp ISO 9001 and still it started to offer "to Permanent Guarantee" for all its line of products.
After 1997, with beginning of the campaigns of disarmament in Brazil, the Rossi opted to reducing its production of firearms, selling the Taurus all its line to revolvers and remains manufacturing shotgun and carbines.
And back to produce other types of equipment, as it made in its beginning of activity.
Of Rossi Firearms we have many to send.
A Brazilian Collector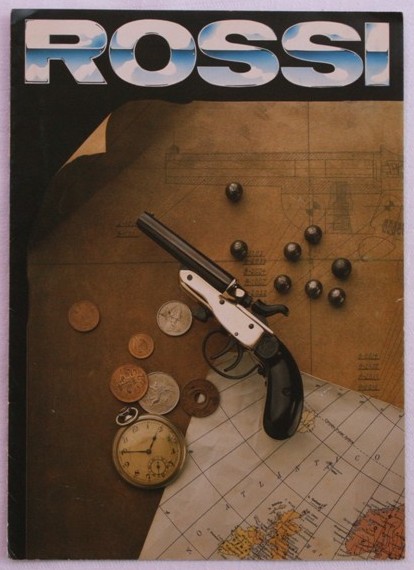 Garruchas, Pistolet à "l'écossaise", ...